MultiTouch Ltd announces details of its #ISE2013 stand, telling us that it will be demonstrating several new innovations.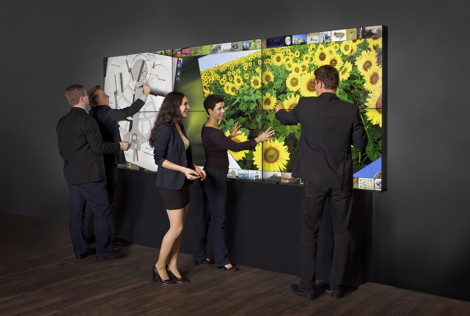 These include Ultra-thin Bezel displays, Enriched Reality, Windows 8, Hybrid Tracking, a prototype of an Android touch display, and MultiTaction Site Manager…
Six MultiTaction 55" UTB (ultra-thin bezel) displays running a custom-made MultiTaction Experience application, the demonstration will show MultiTouch's simultaneous touch, IR pen and object recognition, 200+fps tracking and Enriched Reality
Enriched Reality uses 2D optical markers for real-life object detection to uniquely identify any object and it also supports blob tracking which recognises all basic geometric shapes including circles, triangles and rectangles. We are told that visitors will find the Enriched Reality demo particularly compelling (a large interactive wall displays interesting content and the challenge is how to identify and engage with a user in this scenario. The solution involves issuing users with a badge which includes a marker personalised for them. Users can then tag any content they like and the information is sent to the email address registered to the marker)
The world's first large format integrated Windows 8 touch display is a recent addition to the MultiTouch portfolio, which means that the same applications that can be run on smart phones, tablets, laptops and desktop PCs, can now run on 55" and 42" MultiTaction displays using native Windows 8 touch drivers (also includes simultaneous support for touch and IR pen as well as finger orientation information)
Another of MultiTouch's world firsts, Hybrid Tracking, will be demonstrated at the show. Unique in the optical touch screen market, Hybrid Tracking renders MultiTaction cells immune to external lighting conditions
17 displays in total will be exhibited…
1 x 55" music table with CAVI Radartable Enriched Reality application
2 x 42" Windows 8 tables demonstrating Windows and MultiTouch apps
1 x 55" Windows 8 wall display
1 x 55" Android 4 prototype
6 x 55" UTB wall with MultiTaction experience application
3 x 55" standard wall with Engage executive brand suite
3 x 55" UTB meeting room wall with custom presentation app
All demos will be managed and monitored by the new MultiTaction Site Manager remote management software, which enables a single operator to monitor and control thousands of geographically distributed interactive displays.
MultiTouch can be found in Hall 11 stand N53.