Adrian J Cotterill, Editor-in-Chief
Many commuters at rail stations in the UK are now seeing a fresh, new look for Sky News on JCDecaux's Transvision screens.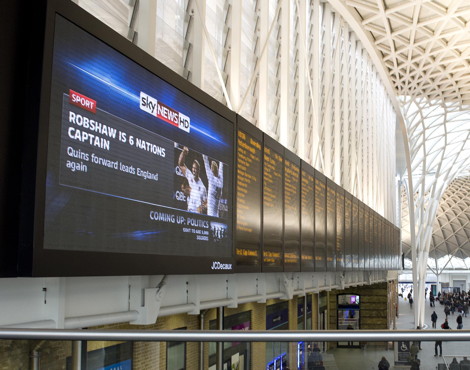 As part of the redesign, Sky News is bringing commuters breaking news across an even wider range of sectors including news headlines, business, politics, entertainment and sport.
Hugh Westbrook from Sky News told us "The design is slicker and more contemporary than the previous version, and the service focuses on the core news headlines service which users want. Our sections include main headlines, business, politics, entertainment and sport, as well as stock market and weather news. We have worked hard to keep people's attention on the screen, and our 'coming up' feature is key to this. Not only does it tell people what the next story will be, but also which section is coming after the next set of advertising, ensuring they pay even greater attention to the screens".
Sky News' content runs across 20 Transvision screens in 17 stations nationwide (it also runs across 20 roadside digital screens in London) including at major rail hubs in London, Manchester, Leeds, Glasgow and Edinburgh. The screens deliver an audience of 4.7 million every two weeks.