Amscreen is working together with leading children's charity the NSPCC to help them reach local communities through Amscreen's convenience and healthcare networks.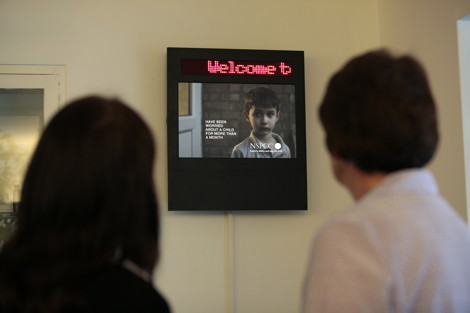 The month-long activity, which kicks off this week, sees the charity promote their Don't wait until you're certain campaign which aims to protect children from abuse across the UK. The content will be screened across Amscreen's convenience and healthcare networks, featuring at over 1,200 sites nationwide and delivering the campaign message to a range of core audiences including parents as well as all individuals in the heart of their local communities throughout the day.
John Cameron, head of the NSPCC's helpline told us "We're delighted to have Amscreen's support and for their donation of media space for our campaign. Screening content on their convenience and healthcare networks enables us to communicate with the right audience and raise further awareness of the campaign – having the backing of Europe's largest digital screen media company will make a real difference in protecting children who are being abused across the UK".
Simon Sugar, CEO Amscreen told us "We're proud to be able to provide the charity an effective channel that can access their core audiences so neatly both on a national and local level. Our screen network talks to individuals on a one to basis at key points of their journey when they have time to consider as well as act on this important message that is being relayed".