Gail Chiasson, North American Editor
When Electrolux, a global leader in appliances for households and businesses, needed a stunning display that would maximize the impact of its new brand messaging and product information at its recent 2013 Electrolux Partner Showcase in Toronto, it turned to APG Displays, Mississauga-based digital signage distributor, for a solution.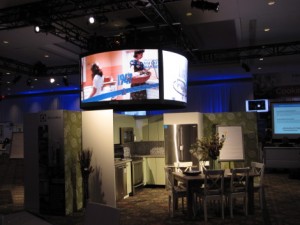 APG quickly suggested Atlanta-based NanoLumens' NanoFlex 112" display as the solution Electrolux needed.
APG Displays provided Electrolux with four NanoFlex 112" displays that were hung above the venue in a curved configuration, making it possible for all of the video content to be seen from every area of the ballroom.
"When Electrolux told us what kind of impact it wanted to achieve, we knew right away that the only solution was the NanoFlex display," says David Weatherhead, vice-president of APG Displays, NanoLumens Canadian distributor. "Thanks to the flexible design of the NanoFlex, everyone in the ballroom was able to see the displays at all times, making for a great visual in the center of the room.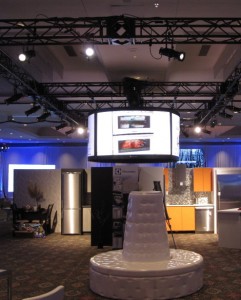 "Electrolux couldn't have been happier with the result. Attendees were comparing the display configuration to the scoreboard at the Air Canada Centre, home to the Toronto Maple Leafs."
Josh Byrd, director of marketing at NanoLumens, says, "There are so many advantages to using the NanoFlex in a venue such as this. Our displays are light, durable and are able to stand up against ambient light, which is critical in this type of environment. When a display can have all that, and be easy to setup and take down, it's the only choice."
Designed and assembled in the US, NanoLumens displays are offered in standard configurations as well as design-specific configurations to fit virtually any size, shape or curvature in both the NanoFlex line of flexible displays and the NanoSlim line of fixed frame displays.