Adrian J Cotterill, Editor-in-Chief
Eye and Monster Media announced this week the launch of an interactive media wall at Gatwick Airport.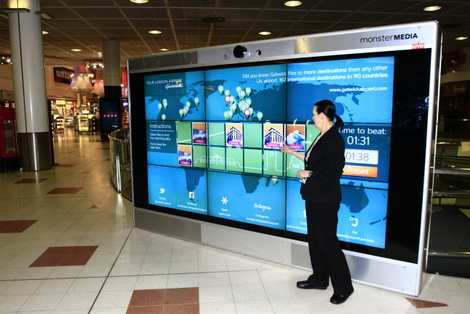 Gatwick is the first to utilise this platform which engages and entertains travellers via a specially designed travel themed memory game. The interactive media wall employs touch interaction technology, whereby passengers are challenged to compete against the clock in order to correctly match destination based icons and score points.
Sarah Parkes, Managing Director at Eye told us "This is a great opportunity for brands to showcase ideas and deliver messaging using interactive digital technology, which is proven to facilitate higher levels of consumer engagement than static advertising. Passengers interact with the creative at their own leisure, which gives the campaigns more flexibility and relevancy. Another example of Eye inventing the future of OOH."
This new site is located in the departure lounge of the North Terminal and it is believed that it is perfectly situated to ensure maximum engagement via high levels of dwell time for interested brands.