One of the world's leading suppliers of printing technology, TOPPAN Printing Co Ltd, and one of the leaders in flexible display technology, Plastic Logic, showcased the first large-area, flexible digital signage prototype. This is based on Plastic Logic's innovative flexible plastic displays, and was shown on the TOPPAN booth (RT1319) at RETAILTECH JAPAN in Tokyo earlier this month.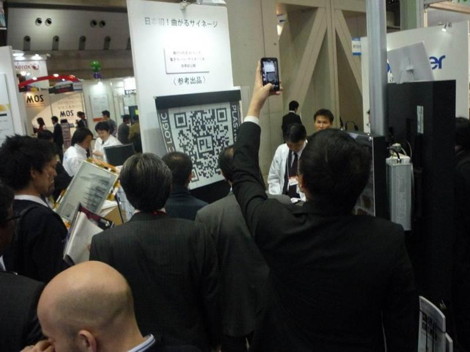 It is believed to be the first time in the world that a flexible, reflective digital signage module over 40″ in size – using organic thin-film transistors (OTFTs) – has been publicly shown.
The large-area flexible electrophoretic display (EPD) module consists of 16″ x 10.7″ Plastic Logic monochrome flexible plastic displays, which have been tiled together in a 4 x 4 configuration, to create a 42″ diagonal display with an effective pixel pitch of 0.7 mm.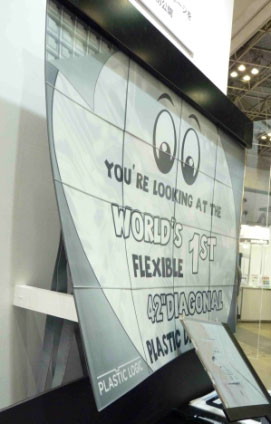 This resolution is approximately six times higher than existing EPD signage, which makes it particularly suitable for applications with close viewing distances.
The inherent bi-stability of Plastic Logic's displays – that means that the image is maintained even when there is no power, Ed means that the module has very low power consumption.
Moreover, because the displays are reflective, the same as paper, they can not only be read in any lighting condition, including bright sunlight, but also from almost any angle, giving them interesting potential for digital signage solutions both outdoors and indoors.
Plastic Logic's CEO, Indro Mukerjee told us "This 42″ daylight-readable digital signage module is just one of the many exciting and varied applications of our plastic flexible displays, which not only enable particularly light and thin end applications, but also revolutionary form factors, such as wearable and mobile devices."
They are also less than 3mm thick and very lightweight, so large-format EPD signage can be hung on a wall like a poster.