UM London and out of home planning and buying specialist Rapport have collaborated with Ministry of Experience to bring Wi-Fi enabled benches to London and Birmingham parks as part of their work for the new Microsoft 'work from anywhere' campaign.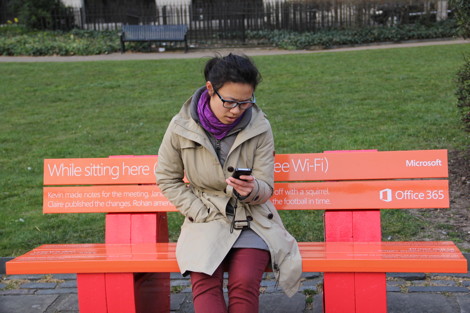 Promoting cloud-based productivity software, Office 365, sees superfast 4G Wi-Fi added to benches in four London squares – Bloomsbury Square, Tavistock Square, Red Lion Square and Russell Square – providing users with a connection to a Microsoft for Business content hub.
This is believed to be the first time any of these parks have allowed commercial advertising in their spaces. Locations in Birmingham include Victoria Square and Colmore Square.
The park benches have been designed to meet current environmental considerations, being made from 100 per cent recycled plastic and with power generated by renewable energy sources (85 per cent hydro, eight per cent wind and seven per cent solar).