Gail Chiasson, North American Editor
STRATACACHE, Dayton, Ohio-based provider of scalable, high-performance digital signage, content distribution and company enterprise video acceleration technologies, is exhibiting at GlobalShop, an annual event dedicated to retail design and shopper marketing, April 16-18, 2013 at Chicago's McCormick Place.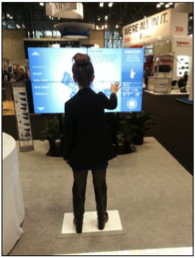 GlobalShop attendees can experience STRATACACHE's latest in-store digital media solutions including Digital Play,Retail Proxy and PrimaSee featured in booth no.1637.
Targeting consumers of all ages, STRATACACHE's Digital Play solution displays high-definition, interactive product and brand messages programmed to respond when a consumer interacts with sales and marketing content via motion-based gestures.
"GlobalShop attendees gather from around the world in search of the latest emerging retail trends to build successful brands," says Chris Riegel, STRATACACHE CEO. "STRATACACHE's Digital Play solution provides just that = a revolutionary new way for consumers to interact with brands through the use of gestural interactive motions to heighten customer-brand interactivity."
Powering these experiences is STRATACACHE's ActiVia for Media digital signage software. With in-depth customer intelligence technology, users can create, schedule, manage and monitor all digital marketing messages from any web browser."
STRATACACHE is a privately-held company working with over 300 of the world's largest firms in the retail, finance, service, hospitality, manufacturing, media and government sectors.