Amscreen, Europe's leading digital media network owner, has been working with one of the UK's leading car dealerships, Glyn Hopkin, to run offers and promotions on the network to promote their extensive Fiat range.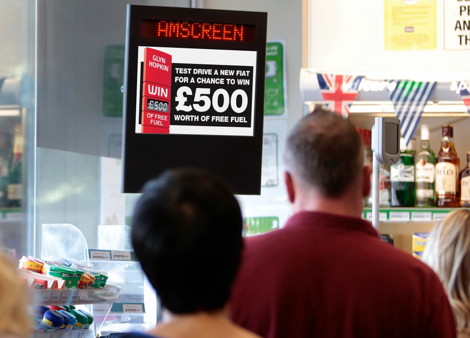 Fraser Cohen, Managing Director at Glyn Hopkin said: "For us, advertising on the Amscreen forecourt network is ideal. Previously, we have focused our attentions on press and our website. However, with Amscreen, we know that 100% of those seeing our adverts are motorists and considering they have car keys in hand, there isn't a better time to talk to them. The screen network also provides ultimate flexibility – if we have a special offer or promotion running, we can drive awareness around it using Amscreen and, what's more, we can do so in a matter of minutes".
As one of the UK's leading multi-franchise dealer groups, Glyn Hopkin has over 25 dealerships across London and the South East and has used the Amscreen network to automate location specific messaging in vicinity to its dealerships. Amscreen's screens reach an audience of over 30 million adults every week and with the presence in forecourts have become a favoured platform for motoring related brands.
Cohen continued, "On this particular occasion, we ran a month-long competition in over 120 forecourts in proximity to our dealerships to promote our Fiat range. We opted to promote this exclusively on the Amscreen network. Consequently, we saw an increase in potential customers coming through the door as a result of our ads which has clearly proved this is an accountable medium and is good value for money. We plan to continue to use Amscreen in the future as a core platform to reach this motoring audience."
Simon Sugar, CEO, Amscreen "In the past twelve months, we've seen an increase in the number of motoring-focused businesses discovering the benefits of our network. It is the combination of ability to effectively reach the motoring audience plus the simplicity, flexibility and cost effectiveness of our platforms that keeps motoring manufactures and dealerships coming back to work with us."