Gail Chiasson, North American Editor
With purchase behavior influenced by many factors before the consumer ever gets to the cash register, consumer goods brands are using mobile advertising to target consumers and drive brand awareness to keep their products top of mind.
Targeting audiences based on location and proximity to a store that sells a brand's products can get new consumers in the door and one step closer to the product.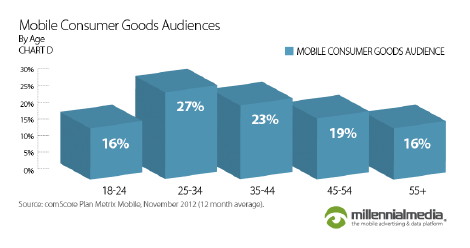 Millennial Media's new CPG Mobile Intel Report brings readers up-to-date on how mobile consumer behavior has continued to evolve with the proliferation of smart phones, tablets, and other connected devices around the world.
Advanced device technology, faster wireless and network capabilities, and decreasing device price points allow consumers worldwide to enjoy interactive and engaging experiences on their mobile devices. The report notes that the mobile advertising channel is incredibly effective and efficient for building brand equity, encouraging a broad range of desired behaviors, and reinforcing brand loyalty.
As a result, advertisers have seen the benefits and subsequently increased their mobile spending. Mobile internet advertising spending worldwide – across all digital formats including display, search and others – reached $8.4 billion in 2012, according to eMarketer, and will rise to $13.58 billion in 2013 and eventually top $36.87 billion in 2016.
The mobile consumer goods audience is made up of consumers who frequently engage with Consumer Goods content and ads on their mobile devices. Consumers are using mobile to:
Research items for reviews and prices before, during, and after trips to the store;
Find store locations that sell a certain brand or product;
Engage with their favorite brands for retail promotions or to provide feedback.
comScore estimates the Consumer Goods mobile audience to be almost 85 million people in the U.S., reaching 85% of the total active mobile audience. However, this group is still growing due to continued smartphone and tablet penetration. According to comScore, smartphone ownership was up 129% year-over-year to account for 54% of the total mobile audience in 2012, while tablet ownership was up 194% year-over-year to account for 21% of the mobile audience
Consumer Goods products, such as food, beverages, and household products and supplies, are most often purchased in-store, often from grocery stores. Therefore, a mobile consumer's grocery behavior, online or offline, can influence their purchase of consumer goods products. While the majority of grocery products are purchased in-store, some grocery items are purchased on a mobile device, providing another opportunity to influence a consumer's product selection.
Of the total mobile audience, men are responsible for 54% of mobile grocery shopping, and are the majority of shoppers in the 18-24 and 55-64 age demographic
Research suggests that most consumer pre-purchase behavior is done on a tablet device, presumably in the home, as over 90% of tablet impressions on our platform are from a Wi-Fi connection. Then, once the consumer leaves the home, the devices and activities performed change. When in-store, the majority of consumers are using their smartphones.
However, this in-store behavior differs by gender. Both men and women look for product information, but they go about it in different ways. Men are more likely to compare prices and check product availability, while women are more likely to engage in social activities, such as asking a friend or family member about a particular product.
The top campaign goal for consumer goods advertisers on Millennak Media's platform in 2012 was Brand Awareness. Brand Awareness campaigns help consumer goods advertisers keep their product names and features top of mind with consumers as they make purchase decisions.
Site Traffic (29%) and Sustained In-Market Presence (11%) were the second and third most common campaign goals for Consumer Goods brands.
The audience most frequently targeted by consumers goods buyers was Foodies, followed by Pet Owners, Parents, Avid Shoppers, and Household Shoppers.

The report notes that mobile savvy consumer goods advertisers leverage location-based targeting campaigns to ensure that their message gets to mobile users at the right place and time, such as within the radius of a grocery store, or towards the end of the work day, when one might run errands on the way home.
In 2012, 40% of consumer goods campaign spend on the Millennial Media platform was attributed to at least one of the many forms of real-time location-based targeting.
Audiences are dynamic and a mobile user shifts into different audiences throughout the day. The report recommends that dvertisers should target diverse or multiple audiences to make sure that they are reaching an optimal set of mobile users.
From the use of video, to rich media, to dynamic banners, consumer goods brands are experimenting with mobile. Compared to all advertisers running campaigns with Millennial Media in 2012, consumer goods brands encouraged consumers to watch video, interact with mobile social media, or use retail promotions at much higher rates