Gail Chiasson, North American Editor
The Bobby Moore Fund and Cancer Research UK have launched a new outdoor advertising campaign, using the latest digital face recognition technology, to specifically target men at risk of bowel cancer.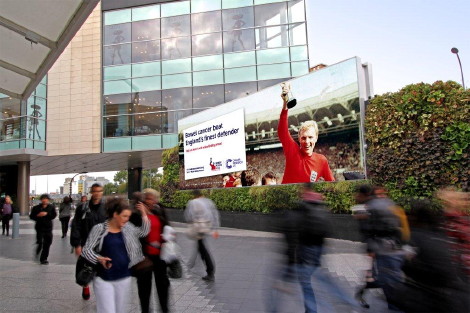 The campaign is running on Ocean Outdoor's digital screen at Westfield London using the latest 'Look Out' camera technology. The Make Bobby Proud campaign was booked through out- of-home agency Talon Outdoor.
Bobby Moore, captain of West Ham United and one of the greatest English football defenders, died England's of bowel cancer 20 years ago, aged 51.
Ocean's new billboard technology monitors the gender of people passing in front of the digital advertising billboard and when the majority of the audience is male, the Make Bobby Proud advertisement is played out in real time.
Moore's widow, Stephanie Parlane-Moore, from the Bobby Moore Fund Charity, says, "Bowel cancer cases in men have risen 35% in the last 30 years compared to only 6% in women.
"Scientifically, we don't yet know why, but we do know that nine out of 10 cases of bowel cancer can be treated successfully with early diagnosis, so targeting men who think they have high risk symptoms [to have them] visit their doctors early is critical to saving lives.
"So this ad technology is supporting science and I'm delighted that Ocean are helping us to use it to help fight bowel cancer, which remains the second highest killing cancer in the UK."
Tim Bleakley, CEO, Ocean Outdoor, says, "Bowel cancer affects the lives of millions of people either directly or indirectly. Our latest technology can help to raise awareness to those who are at risk but are the most likely to ignore the early signs of the disease: men."
Ocean launched its gender recognition technology at its Eat Street screen late last year.