Regular readers will know that NEC Display Solutions brings its solutions partners together this week for the 5th NEC Solutions Showcase taking place at Tobacco Dock, London on Thursday 16th May 2013.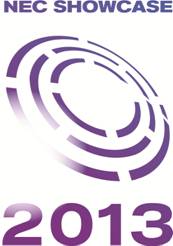 Collaborating with over 50 best of breed hardware manufacturers and software providers, NEC once again hosts a unique opportunity to get hands-on with fully integrated display solutions representing the future of the industry.
There are ten interactive zones featuring end-to-end solutions dedicated to eight different vertical sectors and NEC is acknowledging customers' real needs, delivering total solutions through its combined expertise with its partners and integrators.
Simon Jackson VP, NEC Display Solutions told us "With over 1000 people registered already, over half of which are Corporate end users, we are anticipating another busy Showcase".
He added "This year, we have added technology briefings, live demonstrations and a live Q&A forum to encourage more dialogue and provide a greater experience. The DailyDOOH are running a Thought Leadership Summit 'Video Walls Unplugged' and with videowalls in most of the 10 zones it should be an interesting blend of theory and practice!"
Videowall technology is a key feature at this year's Showcase and one very likely highlight is that demonstrating a 4K workflow – a colourful dance performance will be filmed live, then content will be edited, exported and displayed on a number videowalls and via NEC's new 4k laser projector to provide visitors with a true Ultra HD experience!
You can still register for the #NECshowcase here.
The Thought Leadership Summit 'Video Walls Unplugged' is NOW SOLD OUT but any future registrations will automatically be placed on a wait list.