Gail Chiasson, North American Editor
While most stock tickers, even in creative New York, display single-color text on a plain black background, a midtown Manhattan branch of a major financial institution has set a new standard for information displays with the unveiling of the city's first NanoLumens-powered stock ticker.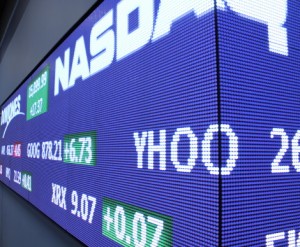 As the main technological attraction of the branch's top-to-bottom renovation – and why, oh why, with such innovation, must the name of the financial institution being kept unidentified? – the bright, full-colour, 3' tall by 60' long L-shaped LED display is certainly dynamic and, we believe, unique.
Bill Shiverick of Atlanta-based Vertical AVTV, the AV integrator who recommended and installed the NanoLumens NanoSlim Design-Specific display, says, "In Vertical AVTV's 10-year relationship with this financial institution, we've installed all types of audiovisual and television systems, but never anything quite like this. As far as stock tickers and information displays go, there's nothing else like this being used in New York City. But now that we've shown what a unique NanoLumens DS display can do for the ambience of a retail environment, I doubt it will be the last."
A high-resolution stock ticker display was a vital element of the design of the branch's new storefront, and the decision to use NanoSlim DS display technology was the result of an intense comparative analysis of three state-of-the-art LED display manufacturers. After Vertical AVTV and the client's project management team evaluated the ease of installation, ease of maintenance, the brightness, weight, durability, life expectancy and total cost of ownership, the decision was made to install the NanoLumens DS display.
"The truth is that the branch could have chosen a lower-cost alternative that may have served the purpose, but when we considered all the different variables and strengths of each manufacturer's technology, NanoLumens was clearly the best choice," says Shiverick. "All you need to do is walk into the branch to see exactly what I mean. I've worked in hundreds of office buildings and corporate headquarters in a dozen of the biggest U.S. cities over the last 11 years, and I've never seen anything like it."
Vertical AVTV has built a successful business installing and maintaining television delivery systems in hundreds of commercial office buildings across the country, and since 2006 has expanded its operations to include custom AV installations using the latest in display technologies. The company's dedication to providing high-quality customer service, ongoing system maintenance and products that consistently exceed their clients' expectations is evident in the fact that they have kept this particular financial institution as a client for more than a decade.
"With the new applications made possible by displays like the NanoLumens NanoSlim DS and NanoFlex DS lines, we are experiencing significant growth in the use of digital signage," says Shiverick. "We expect to see every retail environment, corporate lobby and public transportation space soon become home to a bold, unique digital signage system. NanoLumens' one-of-a-kind technologies are helping us provide systems unlike anything our clients have seen before."
NanoSlim DS Series is available in 4mm, 5mm and 6mm pixel pitches and allows customers to specify truly unique displays in their designs and open the door for corporations, retailers and venue operators to create a completely original digital experience.
NanoLumens displays are slim, lightweight, energy efficient, and feature a bright, seamless, high resolution picture quality that can be viewed from any angle throughout the display horizon without color shift or image distortion. The company's patented display technology, which has won several awards, promises to transform the way marketers engage their customers in every type of trade show, retail, hospitality, stadium, arena, transportation and public event environment.
Atlanta-based Vertical AVTV, founded by by Bill Shiverick, Robert Harlin and Robert Weisert in 2002, has become one of the leading installers of audiovisual and television delivery systems for commercial office buildings in the U.S. In addition to maintaining AV systems for hundreds of corporate offices across the country, the founders have been expanding their business to offer the latest cutting edge display and presentation technologies for corporate lobbies, boardrooms and meeting spaces.