Gail Chiasson, North American Editor
Okanagan Spring Brewery has launched a new campaign via TV, Out-of-Home/digital out-of-home and online to remind beer drinkers to keep the light of youthful exuberance burning bright.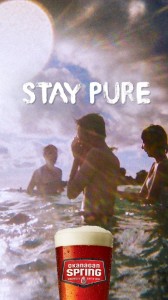 Created by Toronto-based creative agency Open, the campaign effectively demonstrates how Okanagan Spring tastefully embodies the personality of its namesake. Okanagan Spring has been brewing under the 1516 Purity Law since its launch in 1985. The world's oldest food law, 1516 states that beer must only be brewed using four natural ingredients: barleys, hops, yeast and water.

"Okanagan Spring wanted to carve out and claim an emotional space," says Christian Mathieu, partner strategy at Open. "They wanted to forge an emotional connection with their target."
"The Stay Pure proposition supports the west coast lifestyle philosophy which is true to the spirit of Okanagan Spring and truly resonates with our core target," says Rosy Atwal, national brand manager, Okanagan Spring Brewery.
This is Open's first campaign for the client since winning the account in Nov./12.