I know from forceful experience (I am speaking of course, of this respected institution's editor in chief, who hammered home to all speakers EXACTLY what was required from them when presenting last week), that one of the aims of Video Walls Unplugged (and indeed all Thought Leadership Summits going forward) was to foster creative thinking, innovation and be a source of inspiration in the industry.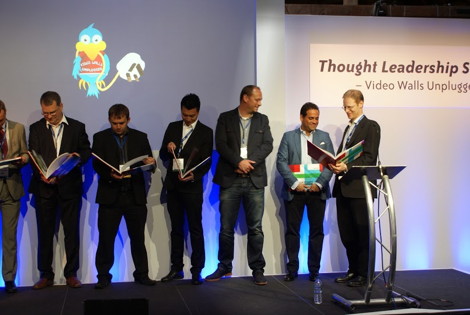 After the event, it was an incredibly nice surprise that all the speakers were given a copy of the highly sought after hardback edition of the The Book of Shapes: International Design Inspirations Featuring Christie MicroTiles† courtesy of Christie (thanks Brant, Joe and Kathryn).
What better way for the day's speakers to walk away and themselves be (more) inspired. The speaker goodie bag was in itself (a) inspired and (b) an incredibly nice thought – typical if I may say so of both Russ Curry (Ministry of New Media) and DailyDOOH's editor in chief.
On behalf of all the speakers, let me say thank you.
†The online version of the Book of Shapes is available in the iTunes store (which also includes Adrian Cotterill's and Andrew Neale's Bluebook, 'How Microtiles Helped Make An Impact At The London Stock Exchange'. You can read my review of that Bluebook here.