London Stock Exchange, part of London Stock Exchange Group, is the world's most international market for trading and listing of public equity and debt.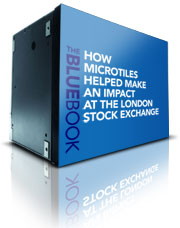 It takes pride in having the fastest trading technology platform in the world, and in putting together an unique market opening solution, utilising the most cutting-edge technology.
Images, text, graphics, film, logos, data streams, prices and news can all be shown on the market opening technology, which is capable of offering a bespoke visual and audio experience for companies listing on the London Stock Exchange.
Outside of the Market Open event itself, news, prices, weather and updates can be streamed directly to the giant screens.
Inside this BlueBook, written by Andrew Neale and Adrian Cotterill you'll find detailed information on the solution and how it was achieved from start to finish: –
What the client wanted
How the brief was met
The content strategy used
Detailed technical information, explanation and specifications about the installation
Considerations, such as content production for non-standard shapes, resolution versus distance
Explanations of hardware decisions, content development, live data integration
And much more!
Those interested in content development will get a lot out of the chapters: 'Why The Shapes Were Chosen' pp16-20, 'Working With Shape' pp21-22, 'Shape Deconstructed' pp23-26, 'Working With Resolution' pp27-29 and 'How The Content Was Developed' pp34-35.
Proper techies will find the chapters: 'Why You Need A Spyder' pp30-31, 'Why We Chose Scala' p33, and the incredibly detailed 'Working With Scala' pp38-41 especially useful.
There are also six pages on 'Working With the ECU' pp44-49 and two pages 'Working With The Spyder' pp50-51 and even four pages pp52-55, on the Crestron PRO2 controller – which was the heart of the control system, Ed
All told there are 39 illustrations and some great appendices as well, pp66-68 has the simplest description of the Issy-Neale Formula we have seen to date.
If you are looking at any sort of MicroTiles project then this is a useful read, if you have a giant video wall to put together using MicroTiles then this is a MUST read (and it will tell you how you can make your life much easier with a Vista Spyder and then feeding that with Scala).
You can download the PDF here.