Adrian J Cotterill, Editor-in-Chief
If proof were needed of the power of social media combined with the immediacy of digital outdoor, look no further than this UK story that has gone viral in a pretty big way – errr, at least where the civilised world uses the word 'football' rather than the term 'soccer' 😉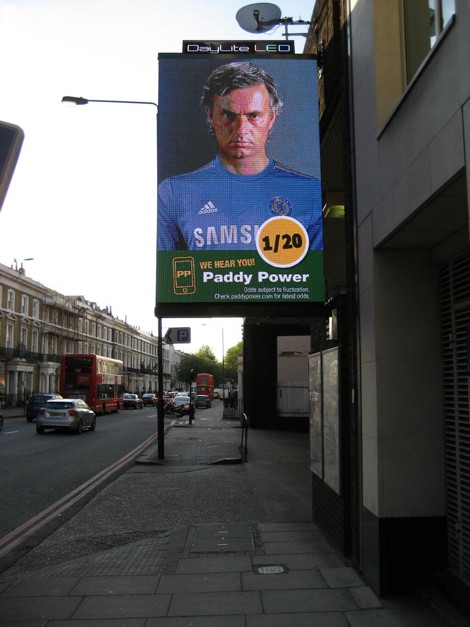 On Monday, DayLite LED Media Ltd. put up a photoshopped picture of football manager, Jose Mourinho in a Chelsea shirt on their digital display in Kensington. Managing Director, Sam Dayeh told us this was "for a bit of fun" (at this moment in time, Jose Mourinho had just left his position as manager of Real Madrid in Spain).
The story 'The second coming: What is Jose Mourinho doing on this billboard in a Chelsea shirt?' by the Daily Mail probably started all the fuss but the poster anyway, soon went viral, with TV news channel Sky Sports News, and newspapers The Independent, Mail Online, Metro and the Daily Mirror all very quickly picking up the story.
However, it gets better (especially if you are DayLite LED Media), as within 24 Hours, M2MUK and outdoor media buying specialist Talon Outdoor had booked the digital billboard for bookmaker Paddy Power.
Paddy Power were keen to advertise the odds where ex-Real Madrid manager Jose Mourinho might go next (hint to those who don't follow football – it's very likely to be a few hundred yards up the street from where the digital billboard is located, with Chelsea Football Club).