Gail Chiasson, North American Editor
This month we introduce Lisa von Segebaden, marketing coordinator for DISE. Stockholm, Sweden, where she is responsible for all internal and external communication within the company, including web, social media, copywriting, graphic design and branding.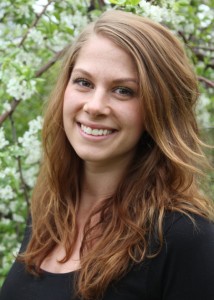 Describe your personal workspace.

Clean and tidy. I find I'm more focused when things are in the right order. On my desk, there's a computer, a screen, speakers, pencils, pens, Post-It's, some paper and hand cream.

How do you get to work?

Slowly, by bus or train. It takes about an hour each way to get to work. Quite frustrating and ineffective!

What is an average day like?

Usually, but not always, I'm at my office before my boss. (There's just the two of us in Stockholm – the majority of the team are in Karlstad, see here, Ed.) We have a quiet agreement saying that the first person arrives is responsible for the music. I often take that responsibility, to avoid listening to country music the rest of the day. During the day, I sit in front of the computer reading e-mails and answering some of them, updating our website and social media channels, preparing our monthly newsletter and creating marketing material. I usually go for a walk during lunch break.

What is your favourite activity outside of the work place?

I enjoy cooking accompanied with one or two glasses of wine; I like to wine and dine. I've always been creative and enjoy music, painting and drawing. That's important to me. I spend a lot of time outdoors, running, walking or cycling. We have a six-year-old German Shepherd, who requires a lot of attention. I practically grew up in the archipelago outside of Stockholm, and being on a sailing boat during a nice, sunny summer day is the meaning of life to me. Couldn't ask for more!

What is essential to you being able to work happily?

Structure and clear guidelines. I want to work against goals and results, how else can I know that I have succeeded in my daily work? I also appreciate criticism – both good and bad. I want to know what I'm doing well, and what I can do even better. And finally, of course, laughter. I need to have fun at work to be able to perform at my best.

How flexible are your working conditions?

Quite flexible. There is a requirement that I'll be at the office during office hours but on the other hand, if I need to go earlier or work from home sometimes – it's ok. My employer calls it 'freedom with responsibility'.

What do you think your employer looks for in its staff?

Knowledge, experience and attitude to the company and to your own work responsibilities.

What suggestions do you have for your company?

Don't be afraid to try new things and new ways of working. One size doesn't fit all. There are several ways of achieving a goal and sometimes multiple ways can be right to bring the same solution.

What is the most frustrating thing about your daily work?

Waiting for other people and tired computers. I don't like to wait. And sometimes I struggle to understand complex technology. It often seems like Greek to me – and I don't know any Greek.

What do you like best about your job?

The variation and the diversity of the work. I'm happy to know that my boss and my colleagues appreciate what I'm doing, that they trust me that I'll always do my very best and that I take responsibility for my job. I believe respect comes with trust.

How open is your company to new ideas and suggestions?

Actually, I've seen a huge change since I started my job. It's nice to see. I think one of the reasons is that the amount of employees has increased almost 70% in a year. We have more people working together and the ideas flow in a faster pace than before. The company has to be flexible and take in new ideas.

How much responsibility have you been given?

A lot. I'm responsible for almost everything I do during my daily work.

How green are you and your company?

Digital signage is green! All our communication is done through digital channels and no material is used during software development. We don't print brochures, presentations and other marketing material; our intention is to keep everything online and easily up-to-date.

What inspires you?

Family and friends. They all make a huge impact on me. As well as all people that are really good at something, good at what they are doing; people with intelligence and competence.

What are your ambitions?

I have set high targets for myself. I'm looking forward to manage and inspire people. Imagine to be able to make an impact on someone and that you, by your knowledge, experience and individual personality, inspire someone to come up with great ideas, good results or improved motivation!

If you could change only one thing in your work or workplace, what would it be?

The location. An hour's commute each way isn't the nicest way of spending time every morning and afternoon.

How much time do you devote to social networking?

In a digital way, quite a lot. I'm responsible for DISE appearing in social media and on the Internet. But that's only on the Internet. In real life, during my workday, I don't do much face-to-face social networking.

What are your most useful tools you use to do your job?

My computer. Humour. Creativity.

What would be your dream job?

I'd like to work with branding and the connection between internal and external communication. I want to work proactively to make employees, customers and investors understand how important a brand and its values are. I hope to be able to make other people understand the greatness in a strong brand, how to work against it and how to manage it.

What makes you laugh during the workday?

My boss. He's quite funny.