Adrian J Cotterill, Editor-in-Chief
Telecom Italia, Italy's leading telecom operator has selected YCD's digital signage platform to implement an innovative customer experience for its new flagship store at Fiumicino – Leonardo da Vinci, Rome's International Airport.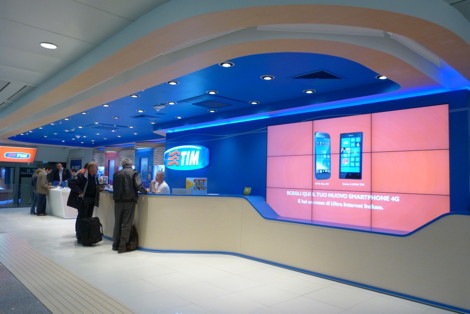 The project, managed by DOOH.IT, a longstanding YCD partner, is made of a digital multimedia ecosystem that includes video walls, kiosks and interactive applications.
The project aims at changing traditional customer's relationship in order to make it more engaging.
The airport project's store is designed to create a unique experience for the customer. Inside the space of a digital atrium customers can experience contents ranging from entertainment, advertising and promotion, to brand video and tablet-based resources. Telecom Italia's customer is surrounded by a complete brand experience with multiple digital displays. The airport's store is a Telecom Italia's communications network showcase, where the customer is connected through sound, motion, information and visualization.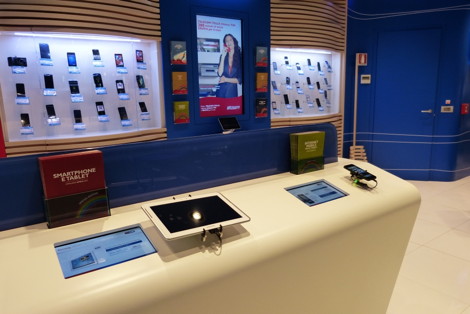 The flagship store is divided into various areas, communicating specific messages, such as brand promotion, special offers, services and more. At certain times during the day displays are synchronized, delivering the value of shared communication. All of the in-store content is provided along with the Telecom Italia's current advertising and commercial campaigns.
"The Telecom Italia flagship store at Fiumicino – Leonardo da Vinci Airport represents a unique innovative digital store concept, strengthening our brand image as an advanced company at the forefront of technology, using it with the aim of closing the gap between the customer and the company," said Grazia Butera, Telecom Italia Consumer Communication BTL manager.
"The ability to provide the customer with interactive information and spectacular, entertaining content creates a unique experience. Real-time updates and content distribution are the basis of our efficiency effort and of our desire to provide the client with the latest information."
"Digital Out Of Home communication really gets to the next level when you have a chance to work with the brand from the very beginning, designing together the experience delivered to the target" said Roberto Vogliolo, DOOH.IT's CEO. "This is exactly what happened with Telecom Italia's flagship store project, where technology has been perfectly integrated with the creative communication concept."
DOOH.IT, an Italian company specializing in designing and installing digital signage networks has coordinated the entire installation. The screens and content are managed remotely by YCD|CMS from DOOH.IT headquarters in Turin.
Alkemy digital_enabler, an Italian independent digital agency, was responsible for the creative concept design and content development.