Adrian J Cotterill, Editor-in-Chief
Sixteen:Nine's Dave Haynes (who we saw / spoke briefly with last week BUT spent no quality time with – i.e. 'drinking') has written two nice pieces about his impressions of #InfoComm13 which can be found here; day one and here day two – both are well worth a read.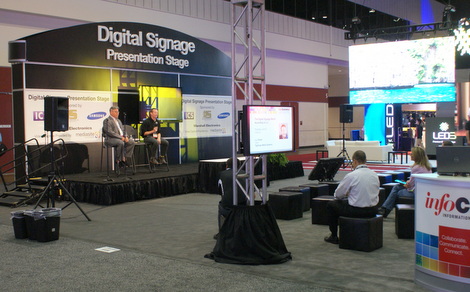 The organisers of #ISE2014 who we understand have likely shelved ALL of their pre-show (i.e. Monday 3rd February 2014) events except for their Smart Buildings Conference, should take note of Dave's point three, day two, we quote "I've seen enough of these on-the-floor education stages at various shows, to conclude they don't seem to have much success attracting people, but they probably are successful extracting appearance dollars from the vendors who end up yakking away on the stage to a handful of people. The one this year had better content, but I'm not convinced it had much of an audience"/
As you can see from the photo above, Tightrope Media Systems' JJ Parker presented 'The Digital Signage World According to JJ' to a packed audience at The Digital Signage Pavilion during #InfoComm13 AND this size of audience was quote common (even for the Guacamole digital signage recipe on the first day).
The #ISE2014 organisers are, we hear, planning similar on-show theatres for Amsterdam. We'd urge them to think again .. bottom line, we'd agree with Dave .. THEY DO NOT WORK!