Russ Curry, Ministry of New Media
"Ich auch, ich bin ein Berliner" says FEPE President Barry Sayer. Barely a few hours after President Obama had left the Brandenburger Tor Square in Berlin, after causing an immense traffic jam that obliged BroadSign's plucky Marie Elamar to drag her wheelie suitcase several blocks to reach the prestigious Adlon Hotel where the 54th FEPE Congress is taking place.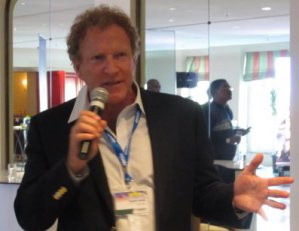 FEPE President Barry Sayer welcomed us to the opening cocktail by declaring, with typical South African modesty, that, whatever he just said, Obama had delivered the second best presentation of the week in Berlin, after his own welcoming address, scheduled for today!!!
He also announced a record attendance for the event, with over 270 delegates from 31 countries being registered.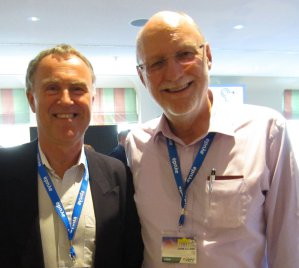 FEPE's Executive Director John Ellery (shown to the left with me) was on hand at the door, along with his charming wife, to personally greet all guests. He insisted on serving yours truly with yet another beer, explaining a a lot of grinning early in he evening.
President Barry Sayer had invited us all to enjoy the evening, but also reminded us to be reasonable because of the early start…rumour has it that these guys are famous for partying – so we'll see in the morning how well they can cope, Ed
Among the usual digital suspects, we encountered the BroadSign team, a lone Ayudean and a Barco Dots screen at the cocktail party.
More later …