Gail Chiasson, North American Editor
Watchfire Signs, Danville, illinois, manufacturer of LED signs, Price Watcher gas price signs and digital billboards, will host a ribbon cutting on July 18, 2013 to mark the grand opening of its manufacturing and office facilities.
The expansion has added over 110,000 sq. ft. of additional manufacturing space and 17,000 square feet of office space to the company's headquarters in Danville. Watchfire has seen significant growth in recent years and the expansion was initiated to keep up with increasing product demand and to accommodate future growth.
Steve Harriott, Watchfire's president and CEO, says that the expansion has "come at the perfect time. The last decade has been a period of tremendous growth for Watchfire and 2013 is shaping up to be our best year to-date. What's most exciting about this is that we are a US-based high-tech manufacturer competing and winning against global competitors.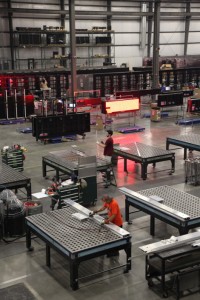 "Building our signs and billboards here gives us a much higher degree of quality control. We were the first in our industry to perform full color and brightness calibration during the production process and we have implemented extensive quality control measures at every stage of production. Having a vertically integrated manufacturing facility allows us to build every display to order, customizing and modifying our displays to fit the needs of the customer while maintaining complete control of the process and quality. There are scores of digital sign manufacturers worldwide, but Watchfire is one of an elite few with full-scale manufacturing in the United States."
Darrin Friskney, vice-president of Watchfire's Billboard Division, says, "We believe manufacturing in Danville allows us to control the supply chain and control exactly what parts go in our displays. Having our research, development, production and service staffs all in the same space gives us ultimate control of our product. It's very different from the uncertainty that's inherent in products distributed by second hand assemblers. We are an industry leader in large part because we produce the best looking, most reliable LED signs in the world which results in a product that produces a better return on investment for the customer, whether a billboard operator, sign company or end user."
While some companies have moved their manufacturing overseas or relocated for tax benefits, Paul Kero, Watchfire's vice-president of operations, says that it was an easy decision to expand their current facility instead of relocating the company.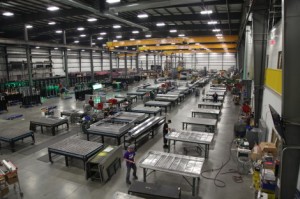 "It was the employees who made the decision for us; their work ethic, their skills and knowledge, and the way the team works together. We have an amazing group of folks here who are irreplaceable. The risk of losing a significant number of them was too great if we moved," says Kero, who claims that more companies are expanding their manufacturing facilities or are bringing their manufacturing back to the U.S. "Companies are seeing a decrease in labor and logistics costs here and the added value in having greater control over how their products are made. U.S. manufacturing is experiencing a rebirth and we're happy for Watchfire to be another one of its success stories."
Watchfire has manufactured outdoor electric signs since 1932 and LED signs since 1996. The company has created more than 45,000 Watchfire LED signs for convenience stores, gas stations, retail, banks, schools, places of worship and other locations worldwide and claims to have more digital billboard customers than any other manufacturer.