Gail Chiasson, North American Editor
SmartBomb Media Group, the company behind the iCASHtv Network – a dominant in-store digital network in Check Cashing and Currency Exchange locations in the US – and Blue Bite, positioned as the Mobile Standard in Out-of-Home, have launched what is believed to be the largest integrated DOOH and Near Field Communication/ Quick Response platform focused on the multicultural audience in the U.S..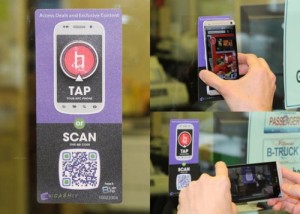 The multicultural Check Cashing customer, a demographic that is Latino and Black/African American dominant, and over indexes on smart phone and social media usage according to a Nielson study, will see and hear a video on an iCASHtv Network screen and be prompted to either 'tap' or 'snap' the mTAG affixed to the teller window.
Consumers will be able to tap their NFC-enabled smartphones to instantly download rich user content from brands including music, videos, mobile apps, promotions, coupons, maps, and tips, as well as store-specific offers and information. Consumers without an NFC-enabled phone will be able to scan the QR code with their smartphones to access the same content.
"SmartBomb Media Group is thrilled to be rolling out the largest integrated DOOH and Mobile Connectivity Network focused solely on the multicultural consumer in the U.S.," says Sheldon Silverman, founder and CEO of SmartBomb Media Group. "Rather than focusing on a vertical industry for our DOOH Network, we have always been dedicated to reaching a specific consumer, and understand that this demographic is ripe for interaction with mobile connectivity. The Blue Bite partnership allows our iCASHtv Network to tap into and interact with this consumer on a much deeper level and raises the bar of engagement for our advertisers."
"The multicultural demographic has consistently over-indexed in mobile phone and mobile internet usage," says Claudia Damas, group director at Kinetic Worldwide. "The ability to reach these mobile-savvy consumers in such a targeted environment presents a huge opportunity for us and our clients."
"Telemundo is excited to have this new mobile connectivity capability available to our advertisers purchasing our Digital OOH Network and iCashtv," says Julie Victor, cirector and general manager of Telemundo Digital Out-of-Home. "The synergy of iCashtv's dynamic large screen in-store digital experience and Blue Bite's mTAG platform connects and further engages the Hispanic consumers, placing a rich content experience into the palms of their hands."
Blue Bite has been seeing consistent growth in the number of mobile engagements in their campaigns over the past several years. Aided by the rise in smartphone penetration and consumer awareness of the availability of these features, Blue Bite and SmartBomb expect the interaction levels to continue their climb. The real-time analytics will allow participating companies to optimize their campaigns and mobile content to react to market conditions. Consumers will benefit from campaigns that are both relevant and geo-targeted, and will have the ability to share them with others through social media.