Gail Chiasson, North American Editor
After attending the impressive #2013SignExpo which included a Digital Zone for the first time ever, it was nice to see that the previous ISA International Sign Expo 2012 has earned a spot among the elite trade shows in North America, landing on Trade Show Executive magazine's Gold 100 list, which ranks the 100 largest trade shows.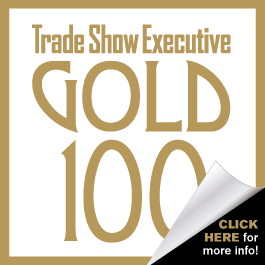 ISA's (actual) order on the list will be announced at the magazine's annual summit in September – this marks ISA International Sign Expo's third consecutive appearance on the list, Ed.
ISA International Sign Expo 2012, held in Orlando, Fla., boasted an exhibit floor that was 10% larger than its previous Orlando show. The show floor included 540 exhibitors, 87 of whom were making their ISA Sign Expo debuts.
"Being recognized as one of the top 100 trade shows in the country raises the visibility of ISA International Sign Expo and the sign industry overall," says Lori Anderson, ISA president and CEO. "While this ranking is based primarily on the net square footage of our expo floor, everything about the 2012 event was a winner. We were able to build upon that for 2013."
The successful 2012 event led into a record-breaking 2013. #2013SignExpo broke records in floor space, topping 200,000 square feet; it sold out for the first time. Attendance was among the highest ever, and educational events broke records.
ISA International Sign Expo has long been recognized as one of the nation's largest trade shows. In 2011, it earned a spot on Trade Show Executive's list of 50 Fastest Growing Trade Shows and placed No. 5 on Expo Magazine's list of top 25 fast-growth shows. ISA held a spot on Tradeshow Weekly's Top 200 from 2003 until 2009 when the publication folded.
"We've long said that our event is one of the best in the nation and this recognition by the trade show industry only proves it," said Brandon Hensley, ISA's vice-president, trade show and marketing. "This certainly raises the bar for 2014. But planning is already well underway and we are confident that ISA International Sign Expo 2014 will meet our high expectations."
International Sign Expo 2014 aka #2014SignExpo will be held 24-26 April 2014 (preceded by an education day) in Orlando, Florida and pretty much, the whole of the DailyDOOH team will be there.
The International Sign Association (ISA) is a 2,300-member trade association. Its members are manufacturers, suppliers, and users of on-premise signs and sign products from the 50 United States and 60 countries around the world. ISA supports, promotes, and improves the worldwide sign industry, which employs or directly impacts over 250,000 American workers and more than $49 billion in annual shipments.