Gail Chiasson, North American Editor
JCDecaux has unveiled giant twin HD digital signs at John F, Kennedy International Airport's Terminal 1, initially featuring LVMH's Moet Hennessy and Louis Vuitton.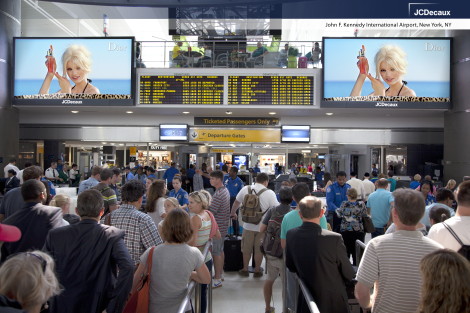 The two high-definition digital signs, each measuring over 15' x 7', feature fully synchronized content and are strategically located above the terminal's TSA security entrance where they will be seen by 100% of departing passengers.
Terminal 1 is one of the most affluent gateways with 4.6 million annual passengers traveling to Europe, Asia and Mexico with 21 airlines, such as Air France, Lufthansa, Alitalia, Aeroflot, Aeromexico, Japan Airlines, Korean Air and Air China. The terminal also provides one of the most comprehensive travel retail offerings with many high-end, upscale boutiques for wines and spirits, cosmetics, jewelry, fashion and accessories.
LVMH will run exclusively for 18 months on the twin HD digital signs, featuring brands such as Christian Dior, Donna Karan, Marc Jacobs, Bulgari, TAG Heuer, Kenzo, Belvedere, Hennessy, Parfums Givenchy and Louis Vuitton. The twin HD digital signs are the first of its kind in North America and provide LVMH with a unique way to showcase its unique portfolio of prestigious brands.
"We are delighted to have extended our global partnership with LVMH to the U.S.," says Jean-Luc Decaux, co-CEO of JCDecaux NA. "The development of such an iconic digital sign, which features full motion creative, will be both powerful and engaging for the brands while truly transforming the passenger experience throughout their journey."
"As airports are a key area of development for LVMH, we are pleased to further extend our partnership with JCDecaux in the key hubs worldwide, and particularly in the U.S. market," reads a statements from the LVMH media department. "The exclusiveness of the site and the quality of the screens match the level of excellence developed by each of our brands."