Inglot, a cosmetics company specialising in high quality make-up products and cosmetics accessories in the Netherlands, with stores typically located in shopping malls and large department stores, sought AOPEN's advice on the latest ways to present products, and carry out innovative in-store marketing through digital communications.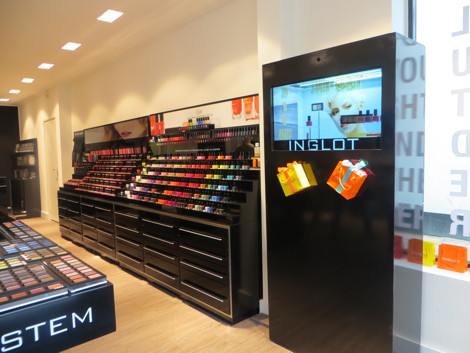 AOPEN suggested installing a transparent display, to give a new dimension to Inglot's merchandise. Using video, images and graphics played in front of the featured products, it becomes an eye-catching promotion tool. It also aligned with Inglot's sense of style and innovation.
"Inglot is seen as a beauty expert and we wanted to extend that ethos throughout our shopping display, making it a compelling and glamorous experience while driving sales," explains Sharon Wertheimer, Commercial Manager at Inglot Cosmetics.
With the futuristic display positioned at the entrance, the first aim is visibility: making Inglot's shop stand out from the rest. Inside the store the display is used to promote the 'Spring/Summer Look of 2013' with a 3-for-2 promotion. This promotion is visible on the transparent display, with the actual products behind the glass. The visual content is both informative and fun, to increase product visibility and connect with the customer.
Sharon Wertheimer said "After having the display now in operation for two months, we have seen an increase in sales, and we are also gathering valuable marketing information from the audience analytics system, We are even getting compliments from nearby shop owners for implementing such an innovative product display".
Gabriëlle Offringa, Marketing Manager AOPEN Europe says the display solution solves the challenge of measuring the effectiveness of in-store marketing activity "This digital solution has given Inglot the tools to measure and analyse consumer behaviour, which helps them build the best strategy to increase sales. At Inglot we are tracking the number of visitors, the amount of time they spend viewing the display and their gender. We can compare this data to previous sales numbers, and instantly determine how effective the campaign has been, and Inglot's success,"