Gail Chiasson, North American Editor
Delta Products Corp., Portland, Oregon provider of display technologies, has completed an LED display installation for the Space Shuttle Atlantis attraction at NASA's Kennedy Space Center Visitor Complex in Cape Canaveral, Florida.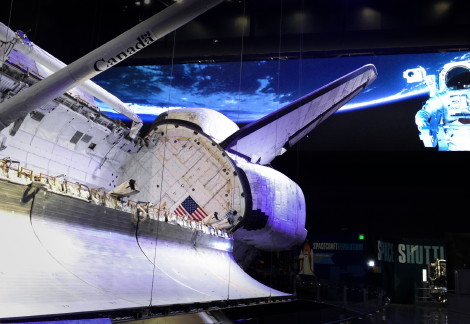 The 20' high, 110' wide LED display (6.2m × 34.1m) is one of the largest indoor LED displays in a continuous array in the U.S..
Delta's LED display provides a spectacular backdrop to Space Shuttle Atlantis and creates a visual simulation of the space shuttle orbiting Earth. The 8mm indoor LED display consists of over 800 I-8 LED tiles for a total resolution of nearly three megapixels. Delta's use of the finest LED diodes and components allows for perfect uniformity with consistent color and superior contrast. Its wide viewing angles insure that every visitor will have an amazing view, regardless of their location inside the exhibit hall.
"Delta's massive LED display adds a feeling of motion to an absolutely spectacular Space Shuttle experience," says Sat Narayanan, vice- president, Delta Displays Americas. "The display is a great fit for the space and the design and installation was perfectly executed by Electrosonic. We couldn't be more proud of the results!"
"The level of support and cooperation that we received from the Delta Products group was outstanding," says Gary Barnes, Electrosonic project manager. "They were always available and very informative and thorough with all aspects of the system they provided. They were aextremely professional and very solution oriented in their approach."
Space Shuttle Atlantis Exhibit, which opened on June 29/13, is the newest attraction at the visitor complex dedicated to NASA's 30-year Space Shuttle Program. Tilted at a 43-degree angle, Space Shuttle Atlantis seems to float in space and can be seen from multiple viewpoints.
Delta Displays provides a complete offering of display solutions including: high-resolution indoor LED displays, all-weather outdoor LED displays, rear projection DLP video walls with LED light engines, narrow bezel LCD video walls, wide extreme megapixel displays, an embedded video wall control system and a network based multi-source video distribution solution. Delta Displays is part of the $7 billion Delta Group.