Gail Chiasson, North American Editor
Beginning this morning, Sept. 6/13, and running until Sept 16, The Toronto Urban Film Festival, North America's largest commuter film festival, is rolling out its 7th annual edition.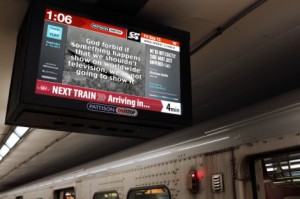 For 11 days, Pattison Onestop's Toronto subway platform screens is a citywide underground theatre, screening the world's best one-minute, silent films to over one million daily commuters.
TUFF is screening 82 outstanding silent films from 20 countries on the Pattison Onestop network of screens located in subway stations across the city. Films play every 10 minutes on all 290 screens. In addition, commuters can watch TUFF uninterrupted at designated 'Film Zone' screens on the north and south platforms of the Bloor subway station, as well as at Dundas and St. Andrew subway stations.
"Short, silent films set to delight, entertain and make you think – TUFF is a unique transit experience" says Karen Stintz, chair of the Toronto Transit Commission.
"We hope that all TTC commuters will enjoy this exceptional film festival in the longest underground theatre, Toronto's subway system.
New this year, 'TUFF Above Ground' will animate the Toronto downtown cityscape from September 9 – 15, with Subdivision by media artist David Clark. Clark's series of eight-second videos, commissioned by TUFF, will be featured on Pattison Outdoor's largest media beacon, located at the corner of Yonge and Edward Streets, just north of Dundas Square, an area that experiences more than 100,000 pedestrians on a daily basis.
Sharon Switzer, TUFF executive director, and programmer Angie Driscoll (Aspen Shortsfest; Hot Docs; CFC's Worldwide Short Film Festival) have programmed an exceptional line-up of short, silent films, representing the work of both emerging and accomplished filmmakers, video artists and animators from Canada and around the world.
This year's guest judge, Canadian maverick filmmaker, Bruce McDonald (Pontypool, 2008; Picture Claire, 2001; Hard Core Logo, 1996, Highway 61, 1991), will be selecting the top three films of the festival, as well as the winner of the City of Toronto's Naish McHugh Award for Emerging Filmmakers. He will present the awards at a special awards ceremony on Sunday, Sept. 15.
"This year's selections for TUFF were short and sweet, diverse, inventive, and tailored perfectly to the festival's unique platform," says McDonald. "They were a pleasure to watch and the high quality across the board made it very tough to pick a winner."
TUFF's 'Spotlight' program on Friday, Sept. 13, highlights the work of experimental filmmaker Christina Battle through a new series of four short videos commissioned by TUFF.
And 'For the Love of Animation' on Saturday, Sept. 14, includes two noteworthy programs: a co-presentation with the Toronto Animated Arts Festival International showcasing four animations from TAAFI 2013; and a special Animation Spotlight presenting four works from the award-winning, multimedia artist Dimitri Kozma.
This year's festival also includes 'Too TUFF for the TTC', an online-only program of three great films not appropriate for screening in a public transit setting. All TUFF films can be seen online, and viewers are encouraged to cast their vote for the Viewers' Choice Award from September 4th to 12th. The top 10 Viewers' Choice films play on the TTC on Sunday, Sept. 15.
"TUFF turns the ordinary Toronto subway commute into the extraordinary, while TUFF Online brings the festival to audiences around the world." says Switzer.
The award-winning films will screen on Monday, Sept. 16.
In addition, The Screening Room at The Drake Hotel. gives viewers 85 minutes of back-to-back TUFF from Sept, 13-15 from 11:00 am to 5:00 pm in Room 222. Admittance is free.
TUFF is co-produced by Art for Commuters and Pattison Onestop, and is funded by the Ontario Arts Council and NBCUniversal Canada.