Adrian J Cotterill, Editor-in-Chief
Amscreen, Europe's largest digital media network owner, has today announced a partnership with Tesco and dunnhumby which will provide customer messaging and advertising opportunities across all 450 petrol stations in the UK. The real time digital media network will deliver engaging and dynamic content to a weekly audience of over 5 million adults.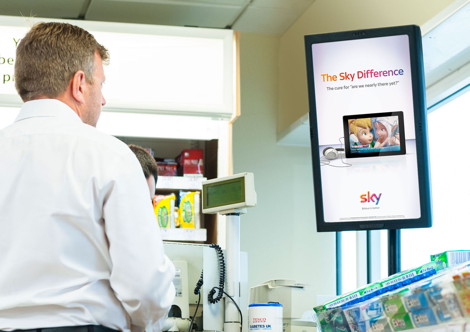 Amscreen CEO Simon Sugar told us "We're extremely excited to call Tesco a screen network partner. We believe it's our flexibility, reliability and measurability that has helped us secure this partnership. For potential advertisers, this means we can now offer various digital advertising solutions to reach the sought after Tesco shopper."
There are a couple of things to note about this network: –
Note the new screens. Amscreen have finally dropped the tacky LED ticker (effectively in its place is a Quividi camera).
This is the first to market national roll-out of Amscreen's audience measurement technology. EVERY install will have OptimEyes (i.e. Amscreen's rollout of Quividi's audience measurement system). Those of you who know what a great job Tesco partner / subsidiary dunnhumby do with number crunching can only guess at what they will be able to do with all of this data – more measurable campaigns for advertisers and more relevant on screen content for the Tesco customer is surely only just the beginning.
We believe that whilst this will initially run at the petrol forecourts, this is UNDOUBTEDLY the start of an Amscreen venture into potentially lots more Tesco venues (and most likely with bigger screens).
The technology is all wholly owned and managed by Amscreen and a Tesco insider told us that it was the technology that actually won Tesco and Dunnhumby over.
Peter Cattell, Category Director for Tesco petrol stations was quoted as saying "We're always looking to work with partners who provide innovative ways to enhance the customer shopping experience. This new dynamic screen product from Amscreen provides the perfect means for us to do this. The ability to tailor content based on time and location means it can be extremely useful and timely for our customers."
Content on the network will be sold by Amscreen's media sales team and is expected to appeal to a broad range of advertisers.