Russ Curry, Ministry of New Media
Last week saw daily 'Mo Bro Heroes' featuring on 30 digital screens throughout the London Underground. The creative celebrates the 'Mo' growth of some of the UKs 'Mo Bros' this month as part of Movember, the month-long campaign that sees men grow moustaches to raise awareness and funds for men's health.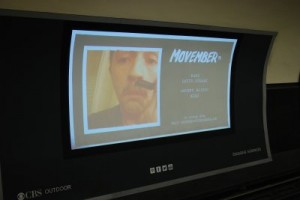 Information is being taken from the Movember webpage and celebrates the Mo Bros' moustaches and their current fundraising efforts.
In addition to this, there is a call to action for those keen to see themselves on 'the big screen' asking them to email underground@movember.com with their details.
The audience involvement provides fundraisers with the opportunity to see themselves or their contemporaries on screens on Underground platforms, encouraging 'Mo Bros' and 'Mo Sistas' to keep fighting the good fight, while acting as a rallying cry for the public to support the campaign.
Working with CBS Outdoor UK, Movember and Posterscope have created this digital campaign to recognise Movember participants and share with others the efforts they put in to support the charity.
This initiative follows on from a global OOH campaign, planned by Posterscope and their international division, PSI. This first ran as an unbranded tease campaign until Mid-October. A simple piece of creative featuring a double-headed snake in the approximate shape of a moustache was used, appearing in both mainstream and unexpected locations, to create intrigue in the run up to November. A reveal creative was then released with Movember branding, urging sign up, on various formats in 13 markets across Europe, the US and South Africa until the start of November. In addition, experiential agency psLIVE facilitated a teaser phase consisting of a graffiti creative, which ran near Old Street in London. This phase of the campaign was intended to disrupt people's normal day and make them curious about Movember.
The entire project was only possible thanks to the generosity and assistance of all the media owners involved.
John Owens, Client Director at Posterscope, said "This is a fantastic collaboration of multiple media owners in markets across the globe to support the men's health charity and raise awareness through a tease and reveal mechanic, further enhanced by tactical experiential activity to surprise and engage the consumer. Using dynamic OOH in such a way to champion the general public participating in the campaign is another strong example of the broad creative range of the medium."