Gail Chiasson, North American Editor
CIROC and Uber have started their new year campaign with the launch of an OOH Social campaign using Twitter and the huge Times Square digital billboard at 1568 Broadway at 47th Street.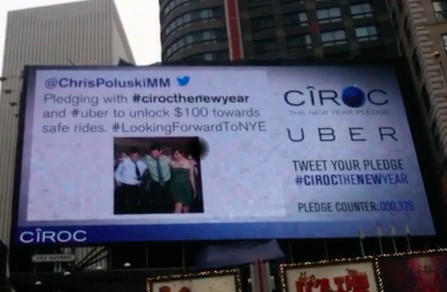 Sean Diddy Combs' Ciroc vodka has teamed up with on-demand transportation app Uber, who will provide discounts for safe rides home on New Year's Day 2014 – the Uber App allows you to request, ride, and pay via your mobile phone, Ed.
Throughout the remainder of 2013, consumers are urged to pledge to #CIROCtheNewYear on Facebook and Twitter and make their commitment to never drink and drive.
Tweets with that hashtag are filtered and age-gated before being displayed in Times Square. For every message CIROC receives, Uber will provide new Uber users with a $25 coupon code, up to a maximum total of $1,000,000.
At 12:00pm EST on Jan. 1, 2014 Combs will personally tweet and post a special code for new Uber users to redeem their discount. The rides will then be made available on a first come, first-served basis beginning at 12:00pm on January 1, 2014. Consumers will be able to sign up with their code at Uber.com.
Celebrities have been joining the cause at pledge parties including Sarah Michelle Gellar, Zoe Saldana, Michael Yo, Kevin Frazier, and Thea Andrews. CIROC is also hosting additional pledge parties throughout December in key markets including New York, Los Angeles, Miami, Atlanta, Washington D.C. and Chicago.
The campaign runs 24/7 until Jan 1, 2014.