One of the largest digital signage networks in the Benelux has just gone live, a DOBIT Digital Solutions Scala powered install for Colruyt supermarkets.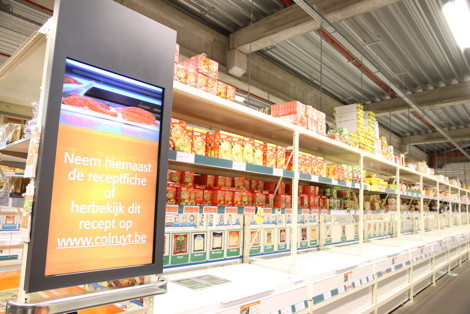 Colruyt is a Belgian multinational supermarket chain with more than 200 stores in Belgium, this install has 42″ screens at checkout (for every three cash registers, one large 42″ screen is placed above the queue), screens at the butcher department, the fresh-food department and 'Collishop', touchscreens in the frozen food section and uses QR codes to download recipes.
About DOBIT

DOBIT is a specialist in technological communication and applications, offering customers solutions for effective, digital communication. DOBIT was among the first in the Benelux to recognize the possibilities of touch screens and in 1990 became the distributor of Elo Touchsystems for Belgium and Luxembourg, now also servicing the Netherlands. Their work is based on expertise and experience in digital signage, touch technology, directional sound and custom-made electronics.