Gail Chiasson, North American Editor
Like the thousands of people who attend Digital Signage Expo, Chris Gibbs, co-founder, president and COO of Exponation LLC, which produces #dse2014, is waiting to see what the most exciting new innovation will be when the event opens its doors in February.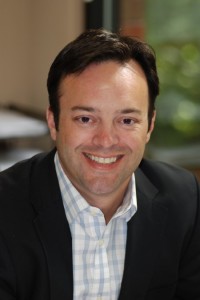 "Every year there's an unknown gem," he says. "One year it was 3D without glasses; last year it was 4K screens. There's always some new innovation that's unknown that turns out to be amazing.
"I don't know what to expect this year, but I expect we'll see more interactivity, and more integration with smart phones and tablets."
This year's trade show, being held at the Sands Expo and Convention Center, promises to be the biggest yet in terms of square feet since the show was founded in 2004, and will have at least 40 new exhibitors. They come in all sizes. And 38 of the companies exhibiting this year are from outside the U.S..
"We also have the Innovation Zone, which is for exhibitors with small budgets, and we always try to have that option," he says.
We asked Gibbs if there were any companies that he'd like to see a exhibitors but have yet to commit to a #dse2014..
"Yes, I'd like to see companies like Microsoft, Qualcomm, and Apple – although I know Apple doesn't do trade shows – come and show us their solutions," he says. "Their people come to look, but I'd like to see them showcase their own solutions."
Something that Gibbs is keeping an eye on are the partnerships that some exhibitors bring. While a company might bring in a partner to provide content on its screens, eg. (and he realizes that this is good), he'd like those partners to also have their own exhibit, so that attendees can find them easily.
"We have certain rules, and we don't want subleasing, but sometimes it's difficult to police," he says. "But when the partners are only buried on someone else's booth, they are hard to find, and it also affects our revenue."
Gibbs is expecting the show to be as large or larger than last year in terms of attendance.
"We'd like to eclipse 2013," he says. "I'm praying for good weather." He is expecting a large delegation to again attend from Brazil and is hoping that the fact that some of the educational sessions are being given this year in Spanish for the first time will help attract delegates from Mexico and other Central and South American countries.
"People come from everywhere," he says. "We don't announce attendance until after the show, but in the past 10 hours, for example, we've had new registrants from The Netherlands, Australia, Porto Rico, Panama, France, Andorra, China, and Brazil."

Of course, it's not only the trade show exhibit itself that is the draw. The Feb. 11 educational day has something for everybody, with the sessions giving credits towards certification and re-certification under the auspices of the Digital Signage Experts Group. The DSEG is an impartial, agnostic and vendor-neutral organization providing professional industry certifications and recognition for participants at all levels in the digital signage industry.
Attendees who already have and are seeking to keep their Digital Signage Experts Group certifications current can be awarded Education Renewal Credits for attending DSE seminars and conferences – they can also take approved online courses on the DSEG website, Ed.
"We've started a new concierge service to help end users, eg, choose the educational sessions that might be best for them," says Gibbs.
This year, eight committees of four professionals each helped decide what courses to offer, helping to tighten and target what is offered. New this year are some courses in Spanish which also lead to accreditation.

"It's important for us to be on the leading edge, and we're paying special attention to integrators and courses that they should consider," says Gibbs. "Integrators are losing a battle to the IT side. There are special courses that they could attend, such a Video Walls Unplugged, and on Digital Signs, as well as the Masters Class for architects and designers to help them learn how to incorporate these into their solutions."
Gibbs says that he expects the keynote speakers to have a lot to say. José Avalos, visual retail worldwide director in the Intelligent Systems Group at Intel Corp., will take a look at the digital signage industry today based on Intel market research and then project that picture 5, 10 and 20 years ahead using insights developed in the company's internal Digital Signage Futurecasting project. David Kepron, creative director, Brand Experience Studio, Little, will explain that there is no 'one size fits all' digital solution and that making great experiences requires a mindful choreography of both the medium and the message.
The move to the Sands is only for this year, and DSE will move back to the Las Vegas Convention Centre next year. The latter didn't offer the space and the best rooms for educational sessions needed, in the right configurations, for this year's show.
"The Sands is preferable to what was available, and our goal is to be the best that we can be," says Gibbs.
One major change that #dse2014 is going back to this year is smaller round tables where nine attendants and one expert in the field in which they are interested can discuss those interests, developments in that sector and challenges, as well as network easily.
"We used to do that, but the tables grew too big so we are going back to the smaller table concept, with 60 round tables, 30 on each of the two exhibition days, and dealing with 16 different topics," he says. "Less is more."
These roundtables are very popular and when we talked last Thursday, Gibbs said that three tables were already totally booked.
And even though#dse2014 has yet to take place (Feb. 11-13), Gibbs says that he and the team of about 14 are already looking towards #dse2015 – as well as the other events Exponation puts on annually. Among these are the Light Show West in Dallas in September, the LED Specifier Summit Light Show in Chicago in October, and the special Industry Forum held especially for people intending to deploy digital signage in their establishments for the first time or who are planning major upgrades in their existing digital signage, date and locale to be announced.
A busy boy is our Mr. Gibbs!