Adrian J Cotterill, Editor-in-Chief
We told you back in August 2012 (yes, yes I know that's two thousand and twelve) '@GilbarcoInc To Acquire Outcast Media', Matthew Stoudt, CEO of Outcast quite rightly denied it here a few months later BUT there were obviously overtures even then.
In fact in November 2012 we said that WE BELIEVED (that) "the deal floundered due to poor earnings expectations from Outcast".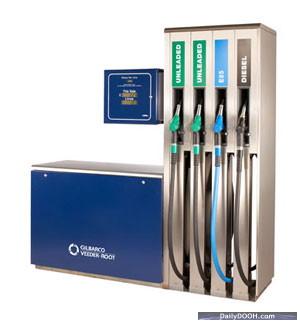 This week however, it's pretty much a done deal, Gilbarco Veeder-Root announced that it has reached a definitive agreement to acquire Outcast Media.
Outcast will operate as the media business unit of Gilbarco, (supposedly) putting the combined company in a unique position to create the largest network of one-to-one TV experiences for the on-the-go consumer.
This deal is aimed at fuelling (yes, awful pun we know) the growth of Outcast's national network currently reaching a monthly audience of 36 million viewers measured by Nielsen, which rivals the delivery of top broadcast TV shows.
The network will now have more immediate access to Gilbarco's customer base of over 60,000 retail fueling stations and will grow to more than 100 million monthly viewers over the next two years.
Michael Schulte, president North America from Gilbarco said "In 2010, we chose Outcast as our media partner for its industry leadership and innovative vision: building the largest and most targeted video network for reaching the on-the-go consumer. The addition of Outcast to Gilbarco's team allows us to work even more closely with them on technology innovations like consumer targeting that will help our convenience store customers reach and engage consumers and compete against other channels."
Matthew Stoudt, CEO of Outcast added, "The deal represents an unprecedented investment in both Outcast and the fuel space from the clear leader in fueling technology. Today, Outcast's network reaches the equivalent of a top-10 weekly primetime show. Based on current adoption rates of Gilbarco's embedded fuel dispenser media solution, our advertisers will soon reach the same number of viewers as a SuperBowl ad every month."
ABOUT GILBARCO VEEDER-ROOT
Gilbarco Veeder-Root is the worldwide technology leader for retail and commercial fueling operations. They offer the broadest range of integrated solutions from the forecourt to the convenience store and head office. For almost 150 years, Gilbarco has earned the trust of its customers by providing long-term partnership, uncompromising support and proven reliability. They support business goals and maximize the bottom lines for 19 of the top 20 convenience store operators in the U.S. Gilbarco Veeder-Root.