Gail Chiasson, North American Editor
Last week we had a lengthy interview with Matthew Stoudt, CEO of Outcast, based in Santa Monica, California.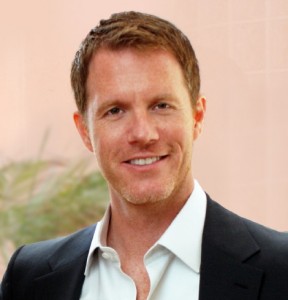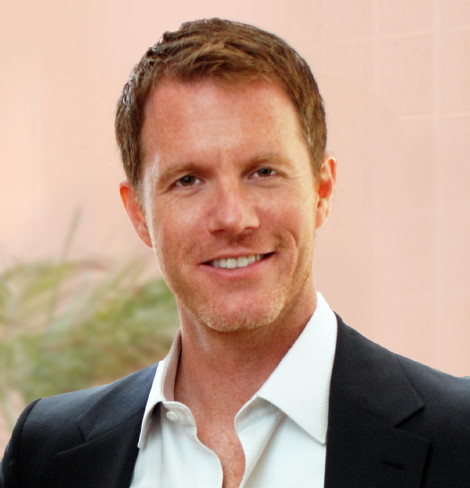 One of the first questions we asked him was about the rumour last month that Gilbarco Veeder-Root was buying Outcast. At the time, neither Stoudt nor Gilbarco were unreachable.
"I don't know how these rumours get started," said Stoudt. "When I read that, I called my counterpart at Gilbarco and asked if they were buying us, and he just laughed," said Stoudt.
"There's no truth to it at all. We've been partners with Gilbarco for a long time, but our major shareholders are Parthenon Capital, Ansera Capital Partners, and Klingenstein Fields & Company."
We had heard that Gilbarco backed off because it didn't like Outcast's books, we countered.
"Overall our market is great," Stoudt said. "We're happy, and as plans go now, we will set records next year. We saw a little hiccup when the economy was down. Of course, there's a general concern at the moment about the fiscal cliff, but hopefully it will be just short term."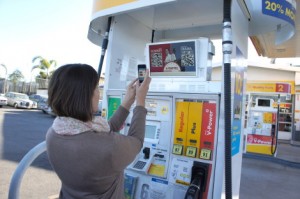 Why hasn't Outcast been more forthcoming with news like its major competitor (Gas Station TV), we asked.
"We've been focused on our core business," says Stoudt. "We have sometimes even viewed ourselves as too quiet, but we're working on changing that. We want to show leadership."
So how does Outcast expect to set records in 2013?
"Outcast currently has more than 15,000 pump top screens across 107 DMAs, reaching 75% of adults 18-49, with household incomes of $83K. (80% of Outcast's impressions are found in the top 25 DMAs.) Outcast's deal to integrate screens and technology into gas pumps manufactured by Gilbarco should turn our current 30 million monthly consumer views into 100 million by 2014.
"It's a big initiative to get to this point. We're expanding our content as well. We want to continue to grow and compete with all the broader networks. We know that we are reaching the 'ungettables' – those who drive more than 8,000 miles each year and live in the top 25 DMAs, resist TV commercials, bypass online ads, shop through smart phones, get news from late night shows and websites, and, according to Nielsen Media Research, gas up at least once a week. This is particularly interesting for our advertisers.
"We recently won an award for the best technology for media at the forecourt from CSP convenience store publication for the second consecutive year.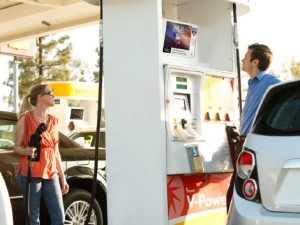 "We develop a lot of our technology in-house and are trying to understand the consumers and build relationships with them. We are now running our content divided into day parts. Our advertisers are taking advantage of what we can do, what's relevant to the consumer, eg. Halls is playing with the local pollen count to let drivers know how high it is at a particular time of day."
Stoudt thinks that it's becoming more important to incorporate interactivity into screens at the pump. Prior to the U.S. election, it ran a poll predicting who would be the winner. Without any incentive to participate, the Election Pump Poll garnered almost 30,000 responses over three weeks.
"Our poll result was wrong, though," said Stoudt with a laugh. "But once NFC-enabled phones have a big enough footprint, we'll see a big rise in interactivity. We are also working towards a mobile payment platform as we expand our infrastructure with Gilbarco."
We asked Stoudt what has happened with its partnership with ECOtality to put its screens at the charging stations for electric cars.
"ECOtality is still trying to roll out its infrastuction," he said. "The process is taking longer than expected. ECOtality is currently focusing on the product and locations. We are still interested."
Outcast of course, also owns the Health Club Media Network with 3,100 locations.
"Most have them have static posters and we're currently evaluating which ones we want to digitize," said Stoudt.
"It's a completely different network from the gas pump, and we need to tailor our advertising according to the customers' mindset."
Returning to the pumptop screens, Stoudt told us that the content includes two Fox News broadcasts customized and co-branded for Outcast. The screens also carry clips from the NBL and the NFL among its content. And it really is national, unavailable only in Oregon and New Jersey (neither of which allow self-serve gas stations), as well as Alaska and Hawaii. The company uses Nielsen for monthly reports. It is also part of the Fourth Screen Report.
"It's really important for the agencies to have these research studies," Stoudt said. "One of the big problems in the industry is that it has never been accepted quickly. It's always a case of going agency by agency."
Some additional points we've learned about Outcast and the 'ungettables', according to new research conducted on behalf of Outcast Media by Equation Research:
Purchases increase by 35% on days they fuel up – Fuel day is errand day, and they spend over $18.4 billion a year within 4 hours of fueling up at our stations;
Nearly 40% of our audiences says they are always busy and on-the-go;
Our audience is 54% more likely to cord-cut than the general population, and they download 60% more apps, averaging over 22 apps;
44% are more likely than most to watch online video and stream content from their smart phones.
And according to a study completed with MasterCard Advisory Group, Outcast viewers spend more than $18 billion a year within four hours of fueling up!