Adrian J Cotterill, Editor-in-Chief
Are you lucky enough to have your own CHIEF OF STUFF?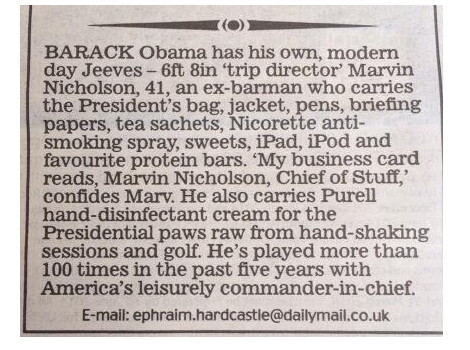 As folks from Europe head out to #infocomm15 soon we thought we would take a light hearted look at what some of us are missing…
Tom Milner, flying Virgin Atlantic from LGW to MCO; iPad 3 64Gb Retina screen wifi and 3g, Dell Inspiron Duo dual booting windows 7 & 8 laptop/tablet, Playstation Vita with a dozen or so games, Nintendo DSi XL with lots of games, 2Tb portable hard drive full of music,TV and Movies, Samsung Galaxy Note 3, Power toothbrush, lots of brand new thick comfortable  socks, Shure noise cancelling earbuds, beats by Dre earbuds, various washes and potions (which he tells us will make him irresistible to anybody), business cards, neck cushion for use on the plane (he tells us that he is travelling 'bucket class'), copious amounts of ibuprofen, an insulin kit, UK 6 gang socket, convertor sockets, HDMI cables, two x 10m ethernet cables, universal remote control (allows him to get hotel TV's out of hotel mode if necessary – and here, if you don't think this was enough tech, is where he gets serious UBER GEEKY, Ed, an android media player that is setup for playing UK catch up TV and fully DLNA compliant client so that he can turn on his notebook that runs a DLNA server, plug in his 2TB hard drive, select his chosen media via the iPad and select the Android media player as the player and watch on any Hotel TV!
Jason Cremins, Signagelive CEO, flying Virgin Atlantic from LGW to MCO; MacBook Pro Retina, iPad, Moleskin Notebook, Bose QC15 Headphones, iPod Nano, Business Cards, Galaxy Note 4, Sony NEX-5N, various chargers, packs of nuts, clear zip bag of miniatures (toothpaste, hair wax, aftershave, moisturiser, lip balm)
Dirk Huelsermann, VUKUNET NEC Display Solutions, flying BA from LGW to MCO staying at the Peabody; HP Laptop (NEC corporate policy), iPad, iPhone 5, Montblanc Pen, Moleskin Notebook, Business Cards, Twinings English Breakfast Tea, Trumper Shaving Kit
Adrian Cotterill, flying Virgin Atlantic from LGW to MCO; iPhone 6, iPod (I still use a very old Nano), MacBook Air, Kindle White, Hand Gel, Business Cards, Bose Accoustic Noise Cancelling headphones, Sony NEX-5, Twinings Earl Grey teabags, Smythson Notebook, packets of peanuts
What's in yours?