Gail Chiasson, North American Editor
Zoom Media, Montreal, has teamed up with Havas Media with a major national campaign for the launch of Danone's Silhouette Greek yogurt in Canada.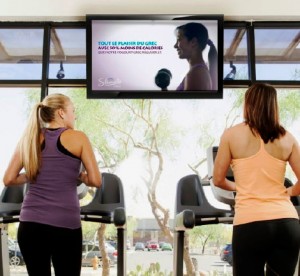 This marks a first time partnership between Zoom Media and Danone's Silhouette brand. Danone is targeting health-conscious fitness members to discover Silhouette Greek yogurt, with the campaign taking center stage at Energie Cardio, Goodlife Fitness, Nautilus Plus and Curves establishments across Canada. Danone is enhancing the gym member experience with Zoom's comprehensive integration of television (FitTV), digital signage and static media, combined with sampling and couponing.
The campaign has a light and fun feel, promoting healthy eating as an accessible and satisfying lifestyle choice. The partners consider that the timing could not be better, with gyms bursting to capacity with members following through with their New Year's resolution to get in better shape.
"The fitness network provides us with the ideal environment to reach Silhouette Greek's potential consumers," says Isabelle Pelletier, accounts director, Havas Media.
The initiative, which began January 6, runs to February 2/14.