Gail Chiasson, North American Editor
I've heard James Fine, president of Montreal-based Telecine, speak several times, and each time, I wished that he'd been given more than the 30 minutes allotted, because he always left me wanting to hear more and more.
So I'm personally disappointed that I won't have a chance to hear him at the Video Walls Unplugged event during #dse2014 next Tuesday. (I'll be at BroadSign's Second Annual Client Summit.) Fine's presentation should combine a real teaching experience with his usual sense of humour – but he won't be alone.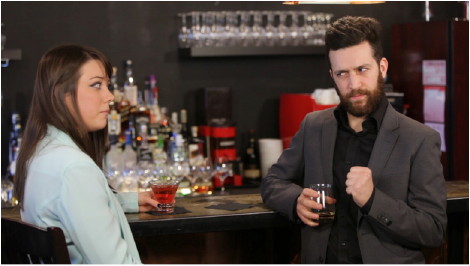 Under the title of 'The Art of Signage Seduction…or How to Score with Great Content', Fine's talk will include, via video, Renée and Matt – "two brave and talented Telecine project coordinators," he says, who will illustrate bad signage content and its impact.
"Your screens may be big and beautiful… but beauty is only screen-deep," says Fine. "You won't even get to first base unless you show content with real substance. If you understand your audience and give them what THEY want, you are far more likely to get what YOU want."
In a bar setting, Matt plays the role of the signage content trying to 'convince' Renée, who plays the audience. The scenes are humorous, as one after another, bad content gets Matt nowhere.
"It would be great for the industry as a whole if we were all able to stop making all the common mistakes in Digital Signage content," says Fine. "After all, there are so many mistakes to make in life, so why make the same ones twice? And when screens are big, small mistakes become really big mistakes. It is a real pity, because if done well, good content can be the least expensive and most important component of the entire project."
"We've collected so many examples of terrible content through the years that represent millions of dollars in wasted money," says Fine. "People shouldn't leave the content until the end. It should be looked at from the beginning or early in the process: What kind of a message do you want to convey? What do you want to impress on your audience? Who do you want as an audience? What do you want your brand to say?" These are questions that should be answered before you deploy your screens.
"If we have one mission, it's to get people to consider what to say and to put good content on their digital screens."
Along with showing many examples of bad signage content, Fine will also show examples of good content, and will share some helpful rules he and his company have gleaned from experience.
And does the guy in the filmed vignettes get the girl? You will have to be at the presentation to find out!