Gail Chiasson, North American Editor
Well, it's back from a very busy week at #dse2014 in Las Vegas, where, while Adrian, Russ and Andrew (and Manolo) went their way, I went mine. (We each do our own thing.)
So my observations are probably somewhat different than their's. But here's what I thought: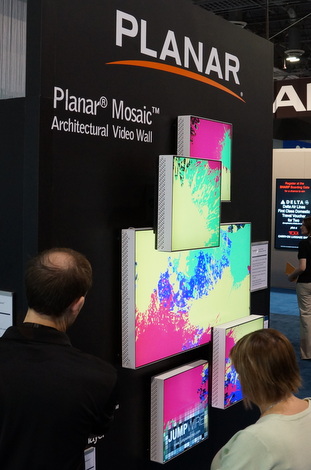 It seemed very much a transition year. The retail sector has obviously totally twigged into the fact that it MUST have digital signage.
The result: everywhere you looked there were indoor signs, outdoor signs and menu boards, as the exhibitors all tried to show that their's were the best.
Therefore, it was almost a case of same old, same old. Other vertical sectors seemed to be an afterthought for many if not most.
Whereas, in previous years, there was one thing that stood out as a Wow! factor (eg. last year, lots of 4K displays and products), this year I really saw little in terms of innovation.
It was mainly a case of product improvements, whether in terms of what the public sees (ie. screens) and the behind-the-scenes media players, mounts, etc..
Among the most intriguing things I spied were Ayuda Media System's introduction of Nirvana, which I wrote about earlier in the week, and Planar's web tools available for the design, placement and more of its Clarity Matrix and Mosaic product lines. And it's always fun to find a couple of new products that just might make it big, eg. Y-Not Sanitize, a hand sanitizer incorporating a digital screen that, yes, does provide advertisers with user data.
I had a lot of interesting interviews, among which, one of the most interesting was with the people from Branded Cities/ABC Sports and Entertainment.
As I mentioned in an earlier post, everybody that I talked to found the layout of the exhibit floor at the Sands Convention Centre well-designed and easier to navigate than past shows. Hopefully, when Exponation LLC moves DSE back to the Las Vegas Convention Centre for, we believe, at least the next four years, we can expect something as good or better. (Apparently the LV Convention Centre has much more space for meeting rooms.) Next year's show will be held March 10-12, 2015.
We don't know the final attendance figures, since when we left, they weren't yet compiled, but, while the hall seemed full all the way to the back (nice, as often people don't see some of the smaller exhibitors situated there), attendance may well be down as the airport closings due to storms on the east coast precluded a lot of people making it to the show. Attendance was also down from the expected number at the BroadSign Client Conference on Tuesday due to some kind of security clearance issue at the Venetian-Palazzo Congress Centre that meant many registered attendees either arrived late or didn't get in at all.
However, I had personal interviews with senior executives at 14 booths or on the floor across the two days, so I'll be writing about each and every one of them over the next few days.
And, oh yes, Las Vegas is still a city of walk, walk and more walking. This editor lost five pounds over three days – which is great, but it was a tiring way to lose it!