Amscreen, Europe's leading digital media network owner, has further developed its relationship with car manufacturer Kia to run a series of locally targeted campaigns via its Adlive† platform.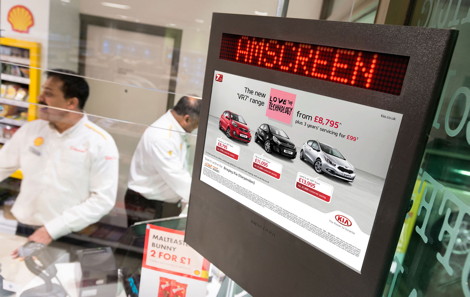 In the 18 months since launch, Kia has yielded great results from using the Adlive platform, and now, the localised campaign management tool is being rolled out to Kia's Extranet, giving all 179 dealers seamless access to the platform.
Amscreen CEO Simon Sugar said "Over the past 18 months, our Adlive platform has enabled Kia dealerships to create and manage their own advertising campaigns. We are pleased to see our partnership grow and look forward to further working with Kia as Adlive is rolled out across their entire Extranet."
David Hart, Dealer Marketing Manager at Kia commented "Using Amscreen's Adlive platform for the past 18 months has meant that our individual dealerships have been able to communicate instantly and effectively with their audiences. This has been extremely beneficial and we've seen fantastic results to date, meaning our advertising is fully accountable. We hope to see these results continue as Adlive becomes even more integrated into Kia dealerships' systems"
†Adlive is an online platform developed for Kia that enables individual dealerships to plan their advertising on a local level, allowing them to select specific local catchment areas and plan varying weights of campaign all through a single bespoke portal.

The platform, launched in August 2012, was developed in-house by Amscreen and gives local Kia dealerships the chance to personalise a national ad campaign for their local marketplace helping to drive customers directly to their doors.