We hadn't had a lot of news from Omnivex of Concord, Ontario, recently, so we caught up with Jeff Collard, President, at #dse2014 to find out what's what.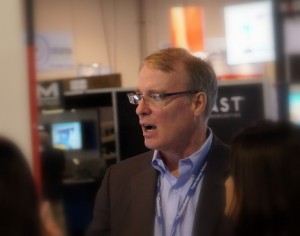 "We've re-engineered a lot of ways that we develop products," Collard said of the 23-year-old company. "We've re-trained everybody. This is a data-driven world. Digital is a strategic asset, and people don't realize it. They're missing the point."
They certainly haven't been resting on their heritage, and Collard cited their recent move to an agile development process to prove it.
The rationale behind this was to reduce long product update cycles, which fits in more with their corporate client base. These customers don't want big product changes, but rather smaller incremental updates which fit in better with their processes and user training patterns.
One of the reasons that we haven't heard much from Omnivex is that most of their corporate clients won't allow projects to be made public, especially when they're internal and not public facing.
Although the Americas remain their largest market, Omnivex are still strong in the Nordic region, along with the UK and other EU countries.
He also expanded on the ethos driving their business, and what he believes differentiates Omnivex from other digital signage vendors.
"We are a decision tool. We take data and make it actionable to people. Data doesn't sit on a cloud. We go from raw data to the screen. Whereas others have to add each piece of data, we take the data and do it in real time and on screen to engage with consumers. Guys who understand this will do well."
"Of course, we present solutions. But software is a means to an end. We are more into solutions and services. People need more than content. They need real-time analytics. Our thinking changes the way that we present at trade shows. Customers expectations keep going up every year."
On ease of use, Collard remarked,"You should be able to reach any asset in the software interface in three clicks."
"We've built an infrastructure. There's intelligence everywhere. Our entire product line is built on data. Data drives what's on the screen. Our infrastructure is built on that. I can make any experience unique by using that data and making it actionable."
Collard also made good sense while he took a step back from his company and talked about the industry in general.
"The digital realm has to get smarter. It's important to have something that makes business better. Pretty much everyone nowadays has data, CRM and ERP systems in place. But there's still a need to engage people using Big Data, and digital signage is an excellent tool for that."
He sees that the march towards connected devices and the 'Internet of Things' is happening, but that security and privacy issues are holding development back in the short term. Similarly he doesn't see corporates moving data to the cloud in any great numbers just yet.
He also believes that a pure HTML5 player is at least two years away before it's stable and standardised enough to be worth considering.
He reckons the major corporations that we heard so much about during #dse2014 (the likes of Intel and Google) aren't headed in the right direction.
"Intel think it's all about retail – I've heard some vendors at the show who said just about two people wanted to talk to them about retail."
Overall from where he stands, Collard says he is very optimistic about the industry growing over the short term, which we think is one of the most bullish statements we've heard recently from a company chief.