Gail Chiasson, North American Editor
Matt Schmitt, president of Reflect Systems, Dallas, told us at #dse2014 that his company isn't working a lot with ad-based networks these days, but is spending more time on brands.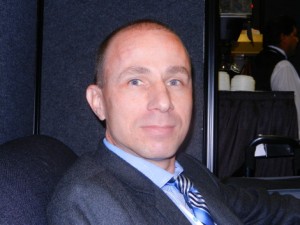 "A lot of our clients are marketing and merchandising people," Schmitt said. "We're helping people do their brands inside other stores (ie, stores within stores). People are asking for tablets to help them manage.
"In fact, we find people are asking for tablets; for help with strategy on how to integrate mobile; how to bring web stuff into the store; and we're seeing interest in 4K.
"Our creative department is now doing interactive applications. You know, we use to be a technology provider, and always did our own software solutions, but now we are a turnkey solutions provider. We help with strategies, objectives. In fact, we are building services on demand. It challenges us, but we also challenge ourselves."
Among Reflect's clients are: Best Buy, Buffalo Wild Wings, CBS Outdoor, Cineplex, GameStop, Ferguson, Levis, MESA and Verizon Wireless.
"Our service offerings for designing, deploying and supporting networks are really helping a lot," said Schmitt, adding that he expects to announce a new network around the end of March. "We only do large networks. Large-scale digital media networks powered by Reflect are now managing more than 300,000 screens. Our clients grow with us. In fact, we've never lost a client."
Schmitt said, "We're excited about our new ReflectView Mobile Player that supports iOS and Android. We believe the use of tablets will be on the rise, and our new solution provides for easily managing and updating media content and interactive apps."
The company's new ReflectView 6.5 introduces its new Mobile Player application. As mentioned, supporting iOS and Android mobile devices, ReflectView Mobile Players provide the ability to deploy, manage, and seamlessly use mobile devices as fully interactive mobile digital media players. Using this advanced player software, a wide variety of HTML5 applications can be seamlessly integrated and dynamically managed across worldwide networks using the proven power and stability of the ReflectView platform. ReflectView was introduced to the market in 2005 and has since been employed by major brands, retail chains and businesses.