Gail Chiasson, North American Editor
"We've had a banner year because we started shipping our award-winning Android players," Bil Trainor, president of Capital Networks, Markham, Ontario, told us at #dse2014.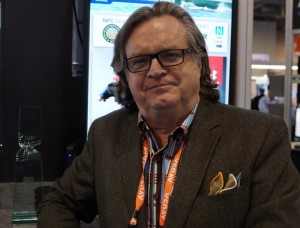 "We've shipped several thousand," he said. "Diverse industry segments are using it, because it has a reputation of being reliable and viable.
"But our biggest news is that we've just announced the addition of Near Field Communications to our entire product line. It's an option for clients in retail and all sorts of services. We've been really keen on NFC, and it's offered as a free option."
Trainor is optimistic about 2014 for Capital, expecting approximately 20% growth, helped along by the dollar exchange with the U.S. and the optimism felt about the U.S. economy.
"Our software is now used in 40 countries," said Trainor. "And I think that our NFC offer – which is our own – is going to be really important. We know that wireless companies and banks are going to want to bring NFC on for the global wallet."
While 60% of Capital's business is domestic, the company is well known for, among other things, having produced the outdoor video boards at the London Summer Olympics.
What else is new these days?
"Well, there are 91 retail outlets with Cablevision on Long Island where our Audience platform is driving the screens," said Trainor.
"And new this quarter is our partnership with Samsung and its Smart Signage platform."

Somehow we got good vibes when looking at Capital Networks products and plans. We get the feeling that Trainor's growth forecast could well come to fruition.