Adrian J Cotterill, Editor-in-Chief
We heard on the grapevine last month that Digital Signage Asia – last seen in Mumbai back in 2007 was an event that was likely to return this year.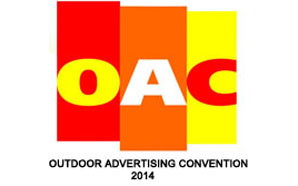 News just in then that confirms that, Digital Signage Asia will be part of the Outdoor Advertising Convention (OAC) 2014 (an event that celebrates its 10th anniversary this year).
If you know anything about the Indian OOH market – it's seen little growth these past three years, and whilst DOOH itself died a death there in 2008 (after a little spurt of activity in 2006 and 2007), DOOH is starting to gain traction and help drive the overall Outdoor sector.
OAC 2014 takes place July 4-5, 2014 in Goa and is likely to attract 500+ attendees.