Adrian J Cotterill, Editor-in-Chief
JCDecaux has unveiled SmartScreen, its new insight-driven digital network of six-sheet screens, which will officially launch across 400 Tesco stores nationwide on 7 April.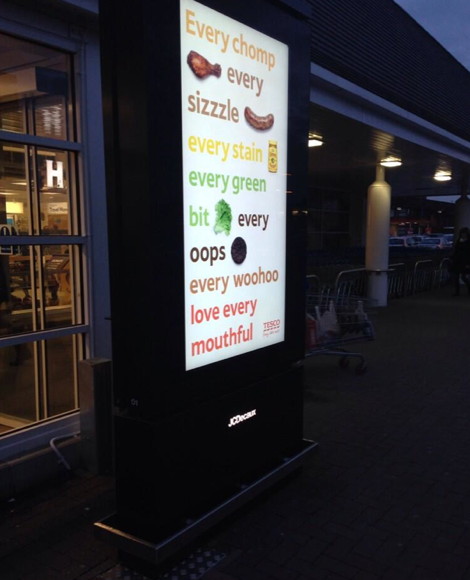 The scheduling system is likely of most interest, it's called JCDecaux CAPTAIn†, and will be powered by dunnhumby insight to help brands schedule advertising messages to shoppers across the UK.
Chris Felton, the head of agency marketing at JCDecaux told us "There may be
certain times of the day or month when product sales are at their highest. So we can work with brands to figure out when this is and we can then target relevant groups of shoppers based on those findings."
This investment (significant no doubt), was first announced at last June's Brand Republic's Media360 event by Spencer Berwin although (we have already had a number of early sightings like this one above).
Following the launch of this initial SmartScreen network at Tesco stores, JCDecaux says that it will seek to expand the service to its other digital poster sites.
† (C)ampaign (A)udience (P)lace (T)ransmission (A)vailability (In)vestment