Australia's first integrated online and digital out-of-home content platform in the notoriously hard to reach tertiary education sector has launched today across more than 50 universities across the country.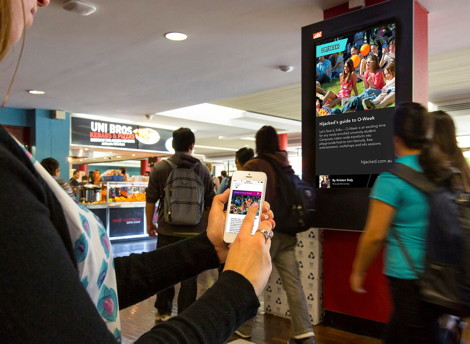 The new Hijacked platform by Australia's largest out-of-home media company, oOh! Media, is like a giant digital campus where every tertiary student in the country can hang-out and a discuss news, views and pop culture on campus, at home or when they are out and about.
Written by students for students, the hottest content on hijacked.com.au at any given time will be amplified via oOh!'s Study network of digital billboards.
In addition to content about politics, entertainment, arts, culture, technology and sport, Hijacked publishes event listings, exclusive student deals and an entirely student focused 'My Future' section to help prepare students for life in the real world.
oOh! Chief Executive Officer, Brendon Cook, said allowing users to "hijack" the conversation was the key to creating unprecedented engagement, both on and off campus.
"As there was nothing like it in the market, we set about developing a website for students by students, which gives them a place to publish their content to a national platform and amplify it through our increasing network of digital signage on campus," Mr Cook said.
"Two-thirds of our digital billboards on-screen content will come from the most popular articles on hijacked.com.au, which gives student contributors a way to share their content among an even wider audience.
"With more than 100 digital screens in universities and plans to substantially increase this, we are delivering content that's directly relevant to students in places where they spend most of their time."
Hijacked is operated by an independent editorial team, led by Managing Editor, Lisa Omagari, who most recently was an editor of street press title The Brag, and backed by an editorial team of writers and editors who also work with campus-specific student publications. Former News Corp. Australia senior marketer Danika Houghton also joins the Hijacked team as Marketing and Partnerships Manager.
Mr Cook said Hijacked has already gained tremendous support from university partners, students and Australian corporates including founding partner Telstra and Australian retailer, Officeworks.
"Our commercial partners see Hijacked as an innovative channel that enables the tertiary student community to connect and share content on a national platform," Mr Cook said.
"It is being recognised by brands as a way to build a more personal connection with the hard to reach university audience.
"In Telstra, we have a founding partner who can help us further develop in relation to content and technology."
Telstra's General Manager, Niche Segment Marketing, Alister Park, said the Hijacked multi-platform offering was a tremendous example of how technology could create greater connectivity.
"The Hijacked platform demonstrates the increasingly vital role technology is playing in education and connectivity. It delivers a central spot for students from around Australia to come together, share their thoughts and gain useful and relevant information from their peers.
"We're thrilled to partner with oOh! and work together towards creating a brilliant connected future for uni students across the country," Mr Park said.