Gail Chiasson, North American Editor
Bell Media's Astral Out-of-Home division has announced installation of 14 new innovatively-designed advertising structures – including three digital – in Montréal's Quartier des Spectacles.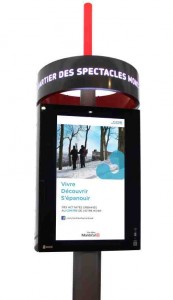 The result of a partnership with the Ville-Marie Borough, Bell Media's OOH advertising division, and the Quartier des Spectacles Partnership, this project will help promote the distinctive character of the Quartier des Spectacles, a sector of 80 cultural venues including 30 performance halls of various sizes, three dozen or so festivals, and seven public squares.
"Astral Out-of-Home is very proud to contribute more than 25 years of expertise and innovation in support of Montréal's Quartier des Spectacles by adapting the design of its structures to represent the creative spirit of this vibrant sector," says Luc Quétel, president, Astral Out-of-Home.
"We are also pleased to pursue the deployment of our digital network in the city's downtown with the addition of 10 new digital structures. The new installations – equipped with LCD screens and NFC and QR Code technology – are located entirely in downtown Montréal. This increases our network of advertising faces there to 40."
Unique and modern, the new columns offer advertisers their choice of locations in the heart of the vibrant Quartier. Astral Out-of-Home turned to renowned designer Michel Dallaire to create a model that captures the essence of the Quartier des Spectacles. Recognized for his involvement in designing BIXI, the self-serve bike hire system, and street furniture in Montréal's Quartier International, he also worked with Astral Out-of-Home to design the digital column located in front of the Montréal Museum of Fine Arts.
Content includes, on one side, the city map and on the other, six advertisers looping for eight seconds each. The individual units can all be synched with one another.
On working with the Astral Out-of-Home team and contributing to the deployment of new, contemporary street furniture structures infused with creativity, Dallaire says, "They are an extension of the vitality of Montréal's Quartier des Spectacles. Astral Out-of-Home and its partners' desire to achieve seamless integration of OOH structures into downtown Montréal demonstrates their genuine willingness to promote Montréal as the remarkably smart and innovative city of the 21st century."
These structures provide advertisers the opportunity to reach a large number of festival-goers and tourists, in key sectors where 47,000 workers and 45,000 students converge daily. They also allow the city to broadcast messages that contribute directly to the promotion of Montréal's artistic and cultural vitality.
These new, attractive, and innovative columns blend perfectly with the aesthetics of the Quartier des Spectacles. The displays will also be equipped with control units for traffic lights, effectively reducing the number of visually-unappealing structures located in the area.