Adrian J Cotterill, Editor-in-Chief
Two of our favourite companies that start with the letter 'S', joined forces (again) this week to address the growing need for high quality, dynamic content for digital signage displays.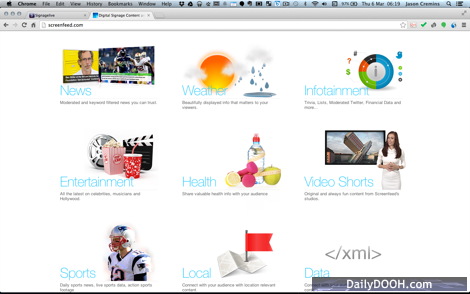 Jeremy Gavin, CEO of Screenfeed told us "Using Screenfeed's API, Signagelive has connected our cloud-based apps together to provide a seamless user experience for the network manager who is looking to use syndicated media as part of their content strategy. Users expect their software solution to make their jobs easier and give them powerful options – this is another example how Signagelive continues to use the power of the Cloud to deliver on those expectations."
The integration with Screenfeed provides all Signagelive users the ability to try and test content feeds of news, sport, weather and financial information for free; and then sign-up and purchase the content directly from Screenfeed with all purchased feeds automatically synchronised within Signagelive ready for scheduling.
Screenfeed provides over 75 different media feeds in both image and video formats; ranging from national news and sports, to localised traffic and weather updates.
In addition, Signagelive has added support for localised Screenfeed content feeds such as local traffic, weather and even localised sports. To access this, users simply enter the Country, State and Zip or Postcode of a location within the Signagelive player attributes and the local weather, for example, will be displayed on screen.
Jason Cremins, CEO of Signagelive told us "Adding Screenfeed content within Signagelive provides our partners and customers with an extensive range of dynamic content feeds that they can 'try and buy' with one-click from with the Signagelive platform. Great regularly updated content is imperative to the success of a digital signage project and Screenfeed leads the way in providing content that turns a screen into a destination."