Gail Chiasson, North American Editor
Last year at the International Sign Expo, I spent about an hour looking for what was called the Dynamic Digital Park (or what I dubbed the Digital Zone), so I was personally glad to hear last week that, rather that it being tucked away in the far-off corner, this year at #2014SignExpo in Orlando, it's in the very front of the hall on the left side – much better positioned!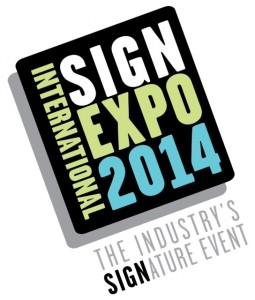 I personally thank the organizers for that, because it's easy to lose your bearings in an exhibition hall where close to 17,000 sign industry professionals and approximately 500 exhibitors are set up, even when you are provided with floor maps.
But more importantly, it should allow sign company representatives to be more aware of what that sector is and to easily come in and chat with representatives of the digital out-of-home/digital signage industry, see what they have to offer, maybe learn from, and perhaps eventually do business with. And it should be a good place to engage with sign companies that have relationships with end-users nationwide – end users that are looking for digital signage solutions.
"In fact, the Park is going to occupy, minimally, 25% more floor space this year – and it's a policy of ours, never to discount space fees so that's true size, not booths given away to represent an increase," says Glenn Feder, ISA business development manager. "And it will feature at least six new companies that didn't exhibit last year. These include, to date: 3M, Mvix, ADTI Media, Touchpoint, Eureka and ZM-Signs."
I noticed that there seem to be a few less exhibitors booked in the Digital Zone than I saw last year – 17 in total at last count, I believe – although it seems that N. Glantz & Son is at least one which seems to have booked a larger space this year. There are still several booths of various sizes that could – and hopefully will – still be taken by the time #2014SignExpo takes place April 24-26.
"There is continued interest from both sign companies and also from suppliers that see sign companies as a new and potentially valuable reseller channel serving this market," says Feder. "The Orlando event is always somewhat smaller than Vegas and as such, presents a little more challenging sales effort across the board.
"But that's not any kind of a reflection on the Dynamic Digital sector. We are still feeling very enthusiastic about the future Dynamic Digital Park and sign companies and expect the momentum from last year to carry through the event and activities in Orlando in April."
Prior to the actual ISA exhibit, Dynamic Digital Signage Education Day, Wednesday, April 23, will offer a full day of education sessions devoted to digital signage. Attendees find out how this new technology is revolutionizing the signage marketplace and how they can add value to their sign shops with new product offerings and new business partners. Opening speaker Daniel Parisien, vice-president product and strategic planning, BroadSign International LLC, will be followed by numerous sessions on such topics as; Understanding dynamic digital signage content, its complexities and best practices; and Win/Win partnerships in dynamic digital signage for the sign installer.
There will also be two days of free educational sessions in the Dynamic Digital Park itself. These will include, among others:
Mixing digital signage and print – with speaker Sebastien Hanssens, Caldera;
How to make profits with dynamic digital signage – with speaker Dennis Wells, N. Glantz & Son Inc.;
Simplifying digital signage: How smart displays are changing the cost containment calculus – with speaker Kevin Schroll, Samsung Electronics America.
A Dynamic Digital and Integrated Design Reception will be held Thursday, April 24, 4:00 p.m. – 5:00 p.m. on the trade show floor in the Dynamic Digital Park. To attend this invitation-only event, email: design@signs.org.