Russ Curry, Ministry of New Media
Whilst half of our team are looking forward to going to San Diego in a few weeks time for #AmplifyOOH (they fly Saturday May 9, 2015 for the event May 11-13), the more pressing matter is preparation for London Digital Signage Week (May 18-22) which is the week after!!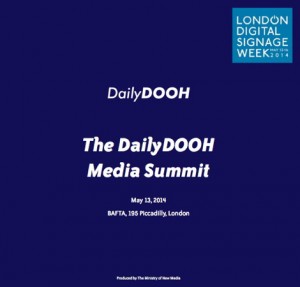 We are therefore working hard to get everything ready for the week and below are some items that we think you might find of interest: –
We will be running London Digital Signage Week digital outdoor creative with both ECNLive's Agency Network and Amscreen. mookuhdesign are helping us with that creative
Registration for The DailyDOOH Media Summit (TDMS) is now open. Tickets cost GBP 295
A 40 Page programme for The DailyDOOH Media Summit (see last year's cover above) serves as a prized takeaway from the event and will, as always, include the Agenda, Speaker Profiles, Presentation Abstracts and Editorial.
Our Editor in Chief is likely in front of a camera at the NEC Showcase interviewing attendees. There's lots of preparation needed to make him sound coherent and we will have more on that later!